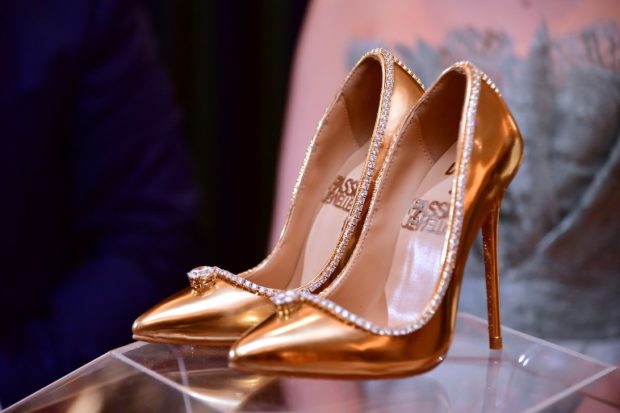 Gold, silk and hundreds of diamonds: a Dubai-based shoemaker has debuted what it says is the world's most expensive pair of shoes  with a whopping $17 million price tag.
At a time when some major fashion houses around the world are struggling to sell their high-end clothes, Jada Dubai, a design house with a modest social media following, on Wednesday unveiled a pair of gold patent leather stilettos trimmed with a row of sparkling diamonds.
Each shoe features a crowning jewel: a round, 15 carat flawless D-diamond near the pointed toe.
"Dubai is the city of millionaires and billionaires… we see it as a potential market, along with the entire (Gulf) region," said Hemant Karamchandani, chief executive of Passion Jewellers, which supplied the jewels.
The one-of-a-kind shoes are a European size 36 (US 5.5, UK 3.5) and can be custom-made to the client's size  after he or she pays full retail price.
Dubai, a hub for Gulf fashion and home to the biannual Arab Fashion Week, has seen a growing number of tourists over the last few years, with more than 16 million people visiting the emirate last year.