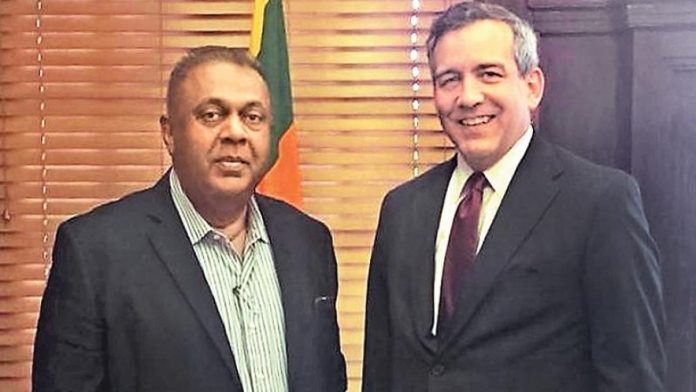 The United States is working with the government to ensure that American companies are given the opportunity to compete for government tenders and that tenders are conducted fairly and free from corruption, according to a senior official of the US Embassy in Sri Lanka. "The United States is the single largest export market for 'Made in Sri Lanka' garments. We would like to grow U.S. exports to Sri Lanka, from agricultural products to manufactured goods to software and entertainment," Chargé d'affaires of the US Embassy, Robert Hilton said in a statement.
Issuing a media statement following a visit of some senior US government officials to Sri Lanka, Hilton said, "The United States seeks to build strong, reciprocal, and balanced bilateral trade and investment relationships throughout the Indo-Pacific.
Executive Vice President of the Overseas Private Investment Corporation (OPIC), David Bohigian and other US government officials visited Sri Lanka from October 3-5.The trip promoted US investment in the region and strengthened cooperation with regional allies to drive economic growth and stability. The delegation met with Minister of Finance and Mass Media Mangala Samaraweera as well as representatives of American businesses active in the Sri Lankan market.
OPIC has a long history of partnering with allies in the region and recently signed Memoranda of Understanding with Japan's Japan Bank for International Cooperation (JBIC) and Nippon Export and Investment Insurance (NEXI), and with Australia's Department of Foreign Affairs and Trade.