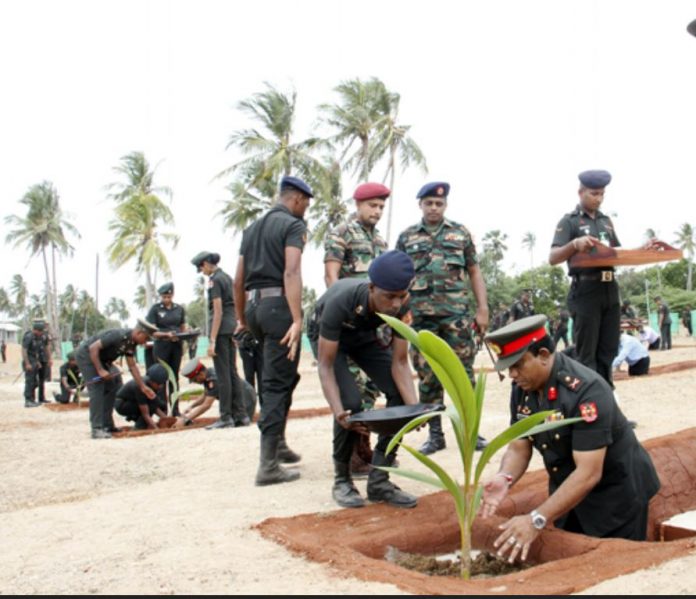 Security Force Headquarters – Jaffna (SFHQ-J), giving a further boost to its Tree Planting initiative along the beach front, planted one more stock of 200 coconut saplings along the Mailaddy beach patch on Wednesday (18) in close cooperation with officials of the Coastal Conservation Department, Jaffna District Secretariat and Department of Agriculture in the Northern Province.
This ongoing cultivation drive, initiated by Major General Darshana Hettiarachchi, Commander, Security Forces – Jaffna has so far planted nearly 2000 seedlings along Jaffna beaches, in addition to its distribution of hundreds of useful seedlings among civilians in the peninsula for planting in their households. The conceptual notion for distribution of saplings, spearheaded by the Commander of the Army has been on in the past one year with distribution of more than 20,000 plants among Army personnel, including all new recruits and those serving the organization. In the same vein, all SFHQs, Divisions and Brigades have been instructed accordingly to launch their own arrangements to the same effect.
At Mailaddy, Major General Hettiarachchi inaugurated the planting along with a group of Army personnel of the 515 Brigade, including Officers. Several officials of above-mentioned state agencies also were present during the planting drive.
Messrs Mr S Muralidaran, Additional District Secretary (Land), Mr Shiva Sri, Divisional Secretary for Thelippalai, and officials of the Coastal Conservation Department, Senior Officers and Other Rankers were present during the event on Wednesday (18).