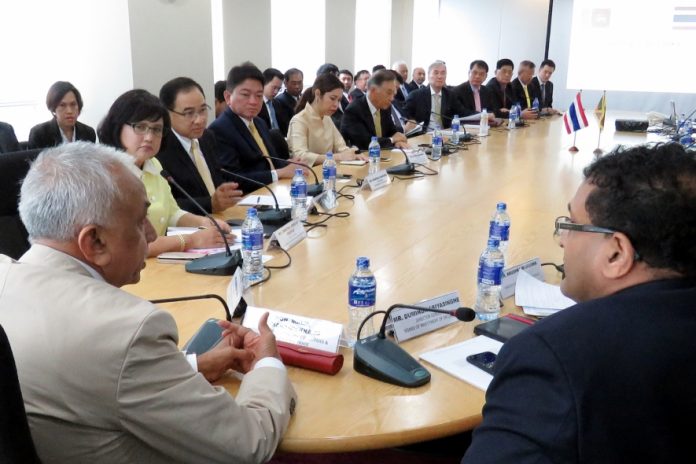 A Thai delegation consisting of 35 leading entrepreneurs from the Thai Chamber of Commerce in Bangkok (TCC) visited Sri Lanka as part of the business delegation accompanying the Prime Minister of Thailand on a State visit to Sri Lanka.
The delegation which was accompanying Prime Minister Gen. Prayut Chan-O-Cho included the Thai Chamber of Commerce, Board of Trade of Thailand, The Federation of Thai Industries, Mitr Phol, Siam City Cement, Bangkok Dock Company Limited, Thai Airways International Minor International and others.
A roundtable forum was organized by the BOI/ Ministry of Development Strategies and International Trade at the Ministry. Minister Malik Samarawickrama welcomed the Thai delegation and stated, "Sri Lanka and Thailand have had a long history for friendship as both are predominantly Buddhist and have a long tradition of tolerance towards other faiths. There are ancient records of trade between Sri Lanka and Thailand. In fact, they go back to the times of the Sinhalese kings and our current relations should be seen as part of this longstanding friendship as we are looking at attracting a greater quantum of FDI from Thailand."
The Minister added "Our policy now is increasingly to build up our trade and investment with the East. In fact, it would be correct to say we are now looking East and recently Sri Lanka entered into an FTA with Singapore. The visit of the Prime Minister of Thailand is expected to lay the foundation for a future FTA between Sri Lanka and Thailand."
Minister Samarawickrama further added "The Board of Investment of Sri Lanka, an agency that come within the purview of my Ministry, is here to help any interested investor in establishing themselves in Sri Lanka for starting projects. We are particularly interested in FDI which will bring know how to the country. In addition to that there is an ongoing discussion on the establishment of a Thai Managed Export Processing Zone."
The Director General of the BOI Mr. Duminda Ariyasinghe also addressed the delegation. He said "We are now looking at taking commercial relations with Thailand further. BOI is a one stop shop for FDI and we are establishing a virtual one stop shop that connects all the key agencies that are needed to provide the required approvals for a foreign investor to start his/her project." He added that almost all sectors are opened for business and companies can be the sole owners of their investments in Sri Lanka, but they also have the option of entering into a joint venture with a Sri Lankan company.
The leader of the Thai delegation Mr. Kalin Sarasin said "Sri Lanka is a hub for South Asia and has an excellent connection to the Middle East, East Asia and Europe. Indeed, there have been very strong ties in the past but now we must explore the future opportunities that may exist between Sri Lanka and Thailand."
Also participating at the forum was CHEC Port city and Mr. Kelvin Tan, Regional Sales Director of Port City addressed the visiting delegation and briefed them on the potential for investing in the future Colombo Business District. Mr. Kelvin Tan stated "we are building a world class city for South Asia. It is important to understand that South Asia is a region which has 1.7 billion people. It is therefore a huge market at our doorstep. By the middle of 2019 all reclamation will be completed. And the first age of construction will begin by early next year." He added "You look at the map you will see that the Shangri La Hotel will be facing in the CHEC Port City. And this area will be part of the new Colombo Business District. When the project is completed we estimate that it will have a population of 250,000. An estimated US$ 15 billion would have flowed into the project and 5.7 million square meters of real estate would be developed as a consequence of setting up Port City."
Mr. Tan also stated that the Prime Minister of Sri Lanka had wanted to build a financial city in South Asia located between Dubai and Singapore. Port City will also be connected to China's One Belt and One Road project. (OBOR). In South Asia there would be about 300,000 high valued individuals who would be interested in investing and in some cases residing in CHEC Port City. Mr. Tan also said that Port City would infuse a lot of modernity into the city of Colombo and there would be an international Marina, an international health centre, world class international school and a world class international convention centre, located within the CHEC Port City area.
The next phase of the meeting was the signing of an MOU between the Ceylon Chamber of Commerce and the Thai Chamber of Commerce. Mr. Dumindra Ratnayake, Chairman of the BOI hosted this event and stated that it reflected the close relations between the two countries and it was the right time to sign this agreement given the considerable opportunities that exists for investing Sri Lanka.
The agreement was signed by Mr. Rajendran Theagaragah, President of the Ceylon Chamber of Commerce and Mr. Kalin Sarasin President of the Thai Chamber of Commerce. Mr. Sarasin concluded by stating that the agreement built up ties between the private sectors of the two countries and will drive the promotion and collaboration in developing key sectors such as the Gem Industries, Jewellery industry, tourism, Agriculture, Agro industries and fisheries. He also invited a Sri Lankan delegation to attend an exhibition on the food industry where Thailand is a world leader.
The Forum therefore, will greatly promote the development of relations between Sri Lanka and Thailand in key areas of economy such as investment, trade and tourism.