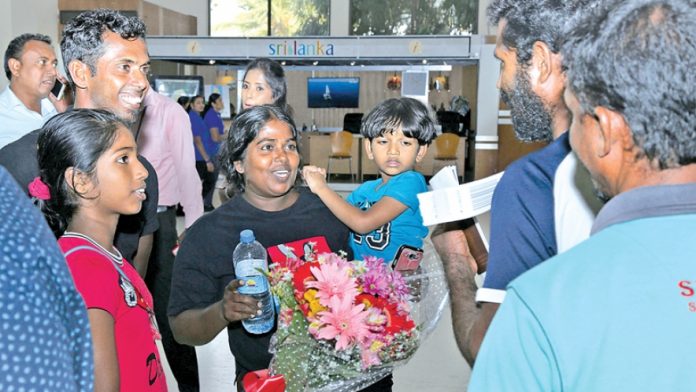 Seven Sri Lankan fishermen who were reported missing in the sea off Maldives since June 30, returned to the country yesterday. The fishing boat – Sinhdur 2, left the Galle Fisheries Harbour on June 14.They lost contact with the Galle harbour after June 30 and were unable to locate their whereabouts for nearly three days.
The Fisheries and Aquatic Resources Ministry said they could not track the fishermen as the battery of the Vessel Monitoring System (VMS) faltered and the communication barred as a result. The Fisheries Ministry said the fishermen were found close to the Maldives.
The VMS is a satellite – based monitoring system which at regular intervals provides data to the fisheries authorities on the location, course and speed of vessels.The fishermen who arrived at the Bandaranaike International Airport (BIA) said that the VMS failed and alleged that if it was working properly, they could have been tracked and rescued easily.
Fisheries Department Director General Prasanna Ginige said the radio system was also not working and there was no communication with the radio unit of the Fisheries Department. Ginige said however the Fisheries, Foreign Affairs Ministries and the Maldivian Embassy took every initiative to bring them back to the country.He said that India and the Maldives assisted the authorities to locate the missing fishermen.
Minister Wijith Wijayamuni Zoysa said that the Ministry would take all possible measures to avoid a similar situation in the future.He said a new unit with smart and new technology will be established to ensure the safety of the fishermen and added that a communication officer and a controller will be appointed to look into it. Minister Zoysa said that measures have also been taken to provide VMS to even small boats with the support of the Australian Ambassador.