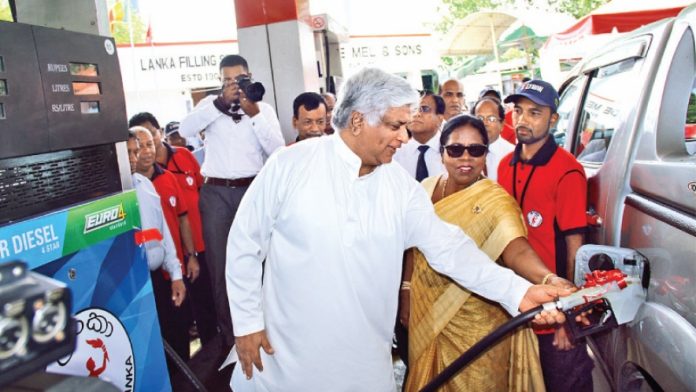 The Ceylon Petroleum Corporation (CPC) yesterday started selling more environment-friendly and less polluting Euro IV standard fuel. The official launch took place at the at the C.F De Mel & Sons Filling Station, Colombo 2 in the presence of Minister of Petroleum Resource Development Arjuna Ranatunga and Deputy Minister of Petroleum Resource Development Anoma Gamage.
The introduction of Euro 4 fuel is another addition to what CPC has been doing to support green environmental concept. This is also a part of CPC's ambitious 'green environment' strategy. In addition, CPC plans to introduce Euro 5 and Euro 6 fuel to the local market in the near future.
Speaking at the event, Minister Arjuna Ranatunga said with the usage of environmental friendly Euro 4 fuel, the emission pollution would be reduced to a great extent and efficiency level of vehicles will increase. Euro 4 fuel's emission impact is less compared with other fuel ranges available in the market, the minister said. "With the introduction of Euro 4 fuel, the government intends to encourage people, especially motorists and industrial sectors to start using greener fuel," he said.
The Minister added despite many obstacles, his ministry has been able to introduce many development initiatives in the recent past to take the industry to the next level. "In addition to this, the government has given utmost priority for gas and oil exploration activities in Sri Lanka that will benefit Sri Lankan people."
The minister also stressed the need to further adopt greener initiatives in energy sector – to minimize environmental issues. Chairman of Petroleum Corporation Dhammika Ranatunga speaking at the event said that Sri Lanka needs to move forward with the world trends and adopt international standards to protect the environment.
"As a government entity, we want to become the forerunners of transforming the country's energy sector to greener initiatives." Ranatunga also expressed gratitude to CPC stakeholders, who constantly keep themselves updated on the requirements of the corporation to improve the energy supply of the country in an economical and efficient manner.