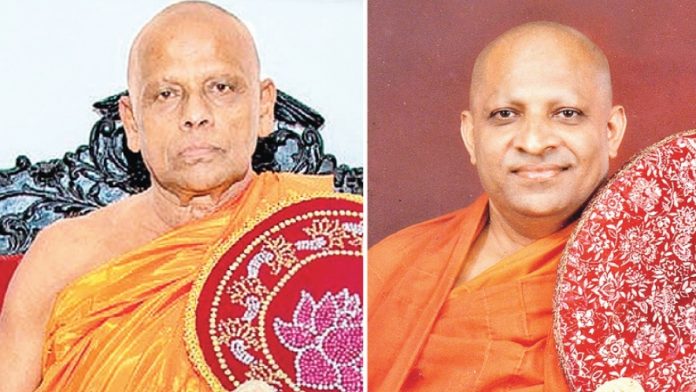 Approval of the Audit Bill designed to prevent financial misuse in the country is a timely need, The Mahanayake Theras of the Malwatte and Asigiriya Chapters said.Malwatte Mahanayake Thera Most Ven. Thibbotuwawe Sri Siddhartha Sumangala and Asigiriya Mahanayake Thera Most. Ven. Warakagoda Gnanarathana said "Only people who engaged in fraud and corruption can oppose an Act of this nature which would help ensure transparency in the Governments' financial transactions.
The two Chief Prelates expressed these sentiments when Auditor General Gamini Wijesinghe called at their respective temples in Kandy and received their blessings on July 2. The Auditor General said the proposed Audit Bill would be taken up in Parliament for debate on July 5.
"The proposed Act once approved would bring fraud and corruption and financial irregularities under control," the two Chief Prelates said, adding that they would always confer their blessings on anything that would benefit the country and its people.
The Malwatte Chief Prelate said there was a group of people bent on opposing anything and everything in the country. Their sole endeavour was to create problems by opposing everything. The Asgiriya Prelate said it was the duty of all Parliamentarians to support the Audit Bill for approval in Parliament.
The Auditor General said certain public officials in highest echelons opposed this Bill while the President, Prime Minister, Ministers and all MPs were in favour of it. He said the notion that the new Act would confer excessive powers on the Auditor General was a misnomer.