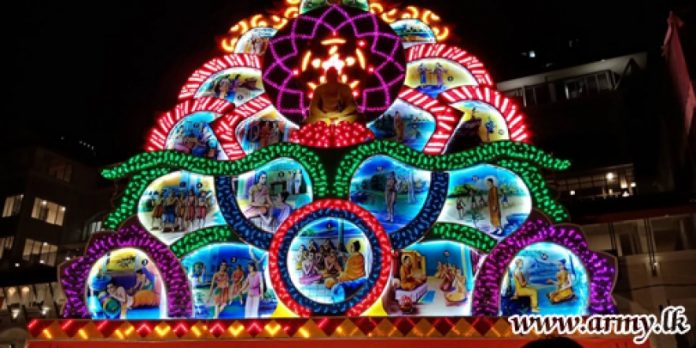 Rejuvenating the legacy of spiritual connectivity and cultural ethos that has existed between Sri Lanka and Malaysia for generations, a brightly – lit up 'Vesak' Pandol, erected by the Sri Lanka Army's Corps of Engineer Services (CES), following an initiative of Sri Lanka's High Commission in Malaysia, was ceremonially opened for display on Saturday (26) evening at Brickfields Buddhist temple premises, Kuala Lumpur, Malaysia.
To coincide with the commemoration of the international 'Vesak Day', Buddha's Birth, Enlightenment and Parinibbana (passing away), this Vesak Pandol was completely put up by Army personnel of the CES on the directions of the Commander of the Army, Lieutenant General Mahesh Senanayake, following a request made to that effect by the Buddhist prelate, Brickfields Buddhist temple and High Commissioner for Sri Lanka in Malaysia, His Excellency A. J. M. Muzammil.
The High Commission of Sri Lanka, together with the Buddhist Maha Vihara, one of the oldest temples with a rich history over 125 years has organized the International Vesak Celebrations at Buddhist Maha Vihara, Brickfields in Malaysia from 26th May to 1st June 2018. The government of Sri Lanka celebrating 60 years of diplomatic relations with Malaysia has presented this colourfully illuminated Vesak Pandol which depicts the life-story of 'Kundalakeshi' Jathaka story. It is 60 feet in height and 50 feet in width and illuminated with 35,000 bulbs.
Over 100,000 devotees are expected to participate at the International Vesak Day Celebrations at the Buddhist Maha Vihara during this period. Vesak Day was recognized as a Day of Observances in 1999 by the United Nations. Sri Lanka High Commission in Malaysia sponsored and supported the project by coordinating shipment of the required materials, equipment and iron structures, etc to Malaysia including air tickets for Army personnel.
Considered as the first ever project of this nature in Malaysia, the Pandol after its ceremonial opening on Saturday (26) will be on display until 1 June. Mr Mahinda Jayasooriya of Serendib Restaurant has magnanimously sponsored the travel of 17 member work team and the transportation of the Pandol from Sri Lanka and facilitated logistical arrangements in Malaysia.
A number of state sector agencies of the Malaysian government, including Buddhist monks have extended their support for this monumental gesture of veneration. During the Vesak celebration in Malaysia, members of the Army cultural troupes on the side lines of the main spectacle will present their cultural and artistic talents on all seven days. The Pandol was ceremonially opened on Saturday (26) by His Excellency A. J. M. Muzammil, High Commissioner of Sri Lanka in Malaysia. Major General Jagath Ratnayake, Colonel Commandant, CES and Director General Engineer Services of the Army and Brigadier Fariz Yusuf, Director, Directorate of Army Band and Drama Art Performance were also present at the occasion representing the Sri Lanka Army.