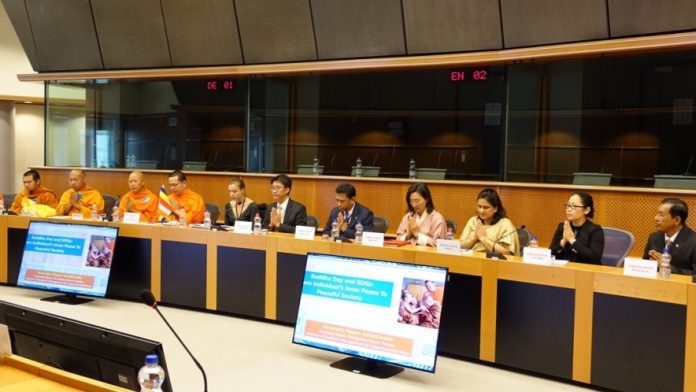 For the first time in the European Parliament in Brussels, Vesak as a day of international observance was marked with a special ceremony on Thursday, 24 May 2018.
The special Vesak ceremony was hosted by Geoffrey Van Orden, MEP, Chair of the Friends of the Sri Lanka Group in the European Parliament with the participation of several MEPs and the Ambassadors of Bhutan, Cambodia, India, Laos, Myanmar, Nepal, Sri Lanka and Thailand. The keynote speaker was Venerable Napan Santibhaddo currently Chevening Scholar at the University of Leeds, UK, who spoke on the topic "Buddha Day and SDGs: From Individual's Inner Peace to Peaceful Society". In his speech, the Venerable Thero illustrated how all the Sustainable Development Goals (SDGs) are based on the teachings of the Lord Buddha and provided a path to peaceful co-existence and world peace. Carlo Luyckx, President, Buddhist Association of Belgium spoke about his experience of Buddhism as a European.
In his concluding remarks, Ambassador of Sri Lanka Rodney Perera recalled how eighteen years ago Sri Lanka took the lead in initiating a UN Resolution declaring Vesak as an international day of observance. He stated that it brought much satisfaction today that for the first time a ceremony to celebrate Vesak could be held in the European Parliament in Brussels. He expressed the hope that this would become an annual event.
The event concluded with the chanting of Seth Pirith by the monks and offering of Sanghika Dana