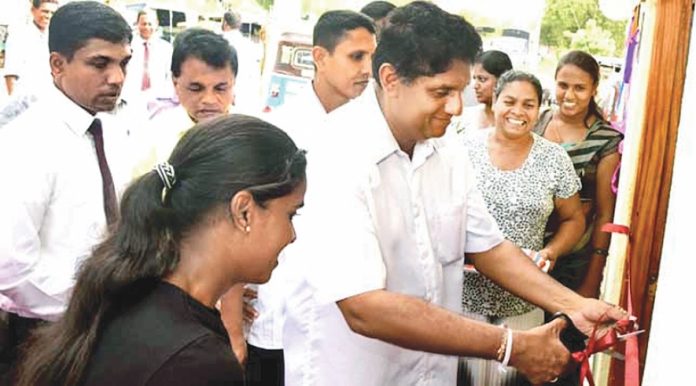 Housing and Construction Minister Sajith Premadasa opened his 73rd udagammana (model village) on Saturday which consisted of 25 houses. The construction of 724 model villages is in progress and they will be opened this year.
Minister Premadasa said that plans are afoot to construct 2,500 model villages, which would consist of 62,500 houses. He added that with the momentum his ministry has achieved, he expected that they would be able to construct another 500 model villages, additionally.The foundation stone for the construction of Udagama Sobitha Nahimigama named after the Ven. Madoluwawe Sobitha Thera, which consists of 150 housing units, was laid with the participation of Speaker Karu Jayasuriya, Minister Premadasa and acting Indian High Commissioner in Sri Lanka, Sri Arindam Bagchi, at Vilachchiya in Anuradhapura yesterday.
The yahapalana government has already granted more than 5,000 houses to people living in urban and rural areas, while there are hundreds of thousands of houses to be granted before 2020, under several projects.
The Megapolis and Western Development Ministry and Housing and Construction Ministry are constructing 20,000 housing units for the people living in urban areas and 62,500 housing units for those in the rural areas before 2020, under the directions of the yahapalana government led by President Maithripala Sirisena and Prime Minister Ranil Wickremesinghe.
The model village was funded by India at a cost of Rs 300 million. The construction of the rest of the model villages would commence on a day-to-day basis. In parallel, the Megapolis and Western Development Ministry, in its target to construct 20,000 housing units for low-income earners before 2020, has already constructed and granted 3,429 houses. Minister Champika Ranawaka said that 8,903 houses constructed with Rs 44,515 million would be granted to the people before the end of this year.
Minister Premadasa said that there were many other programmes under his ministry such as the scattered housing programme, housing programme for kidney patients, and middle-income housing programme, to make the people's housing dreams a reality.
Prime Minister Ranil Wickremesinghe said that the people in North and East who were deprived of houses due to the conflict would be granted houses. He added that a section of them have already been granted houses. The Premier added that the people in the estate sector too would be given 50,000 houses with Indian funds.
The Premier also said that National Savings Bank has agreed to grant a low-interest housing loan scheme for the middle-income class and this would be implemented soon.