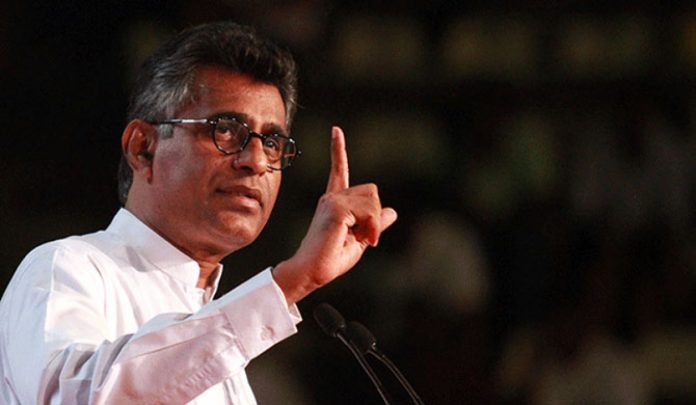 The government was able to earn Rs. 300 million from recycling garbage during the last six months, Megapolis and Western Development Minister Patali Champika Ranawaka said. He said that compost fertiliser had been produced out of the garbage in Colombo city which had been a menace to the city.
The Minister added that the compost and recycled garbage in the Colombo city would be used to fill the park area in Colombo Port City. He made these observations at an environment promotion project in Katubedda, Moratuwa.
Minister Ranawaka said that in a project initiated by the Sri Lanka Land Reclamation Development Corporation (SLLRDC), the garbage transported to Kerawalapitiya is recycled in a yard. The Minister said the compost produced there is sold as the Mihijaya Pohora as bulks for coconut cultivation and for other purposes as well. He added the same was initiated in last November to find a solution to the garbage issues that was aggravated by the Meethotamulla garbage slide.
Minister Ranawaka said at Kerawalapitiya, plastic, polythene and glass, including bottles are separated and sold to the traders there. He said these projects initiated by his Ministry would solve the garbage issue in Colombo and in the suburban cities for another eight decades. He added that the first phase of the project would be completed at Aruwakkalu by November this year.
"However, this issue does not come within the ambit of his ministry but the Colombo Municipal Council. But on the request of President Maithripala Sirisena, the matter is handled by our ministry," he said. Minister Ranawaka further said that hence the garbage dump at Meethotamulla would be removed and the same place would be developed with Urban Development Authority funds. He also said that following the removal of the garbage dump at Bloemendhal Road the same place would be used for a Sri Lanka Customs project.
"This is sustainable development," Minister Ranawaka said. "This government would not acquire those lands forcefully in order to sell them to foreign investors and to entangle the county in a debt trap," Minister Ranawaka said.