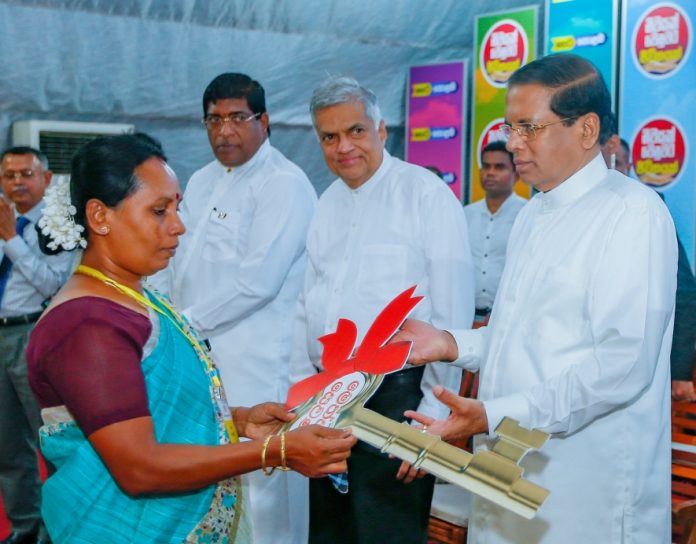 Seven hundred and twenty-two (722) newly built houses of Madampitiya, Henemulla, "Methsanda Sevana "housing scheme were vested with low income families in Colombo by President Maithripala Sirisena on 23rd May.
These houses were constructed under the project "Naagarika Punarjeewana" by Urban Development Authority under the supervision of Ministry of Megapolis & Western Development in order to transform the suburbs in Colombo with less facilities in to proper houses with adequate facilities.
Each housing unit consists of two bed rooms and all the other facilities and costs Rs.4 million for construction and services while the cost for the entire housing complex with fifteen floors is Rs.2880 million.
The housing complex is composed of elevators, community halls, and other facilities for the convenience of residents.
With the prime motive to provide houses with modern facilities for the people with low income families and to uplift their livelihood the target of building 50,000 housing units under the "Naagarika Punarjeewana" is being conducted by Urban Development Authority under the supervision of Ministry of Megapolis and Western Development.
The President, who vested the housing scheme for the usage of the people went on an observational visit.
The "Suhuru" child development centre came under the special observation of President Sirisena.
The President then offered keys to few owners of the houses.
Prime Minister Ranil Wickremesighe, Ministers Patali Champika Ranawaka, and Mano Ganeson, State Minister A.H.M.Fowzie, Ravi Karunanayake, Member of Parliament Director General of Urban Development Authority Sumedha Ratnayake and other officials were present in this event.