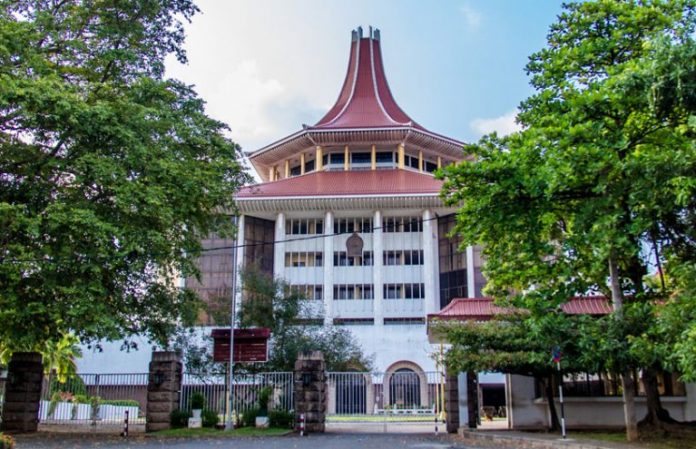 The Supreme Court has commenced hearing of the Fundamental Rights (FR) petitions filed challenging the date set by the Elections Commission to hold the General Election 2020, for the fourth consecutive day.
Seven parties including Attorney at Law Charitha Gunaratne, Center for Policy Alternatives (CPA), and Journalist Victor Ivan, Samagi Jana Balawegaya filed Fundamental Rights petitions challenging the election date set by the Elections Commission.
The Attorney General, on behalf of the President, Chairman of the Election Commission Mahinda Deshapriya, and Members of the Commission N. J. Abeysekara and Ratnajeevan Hoole have been named as respondents of the petition.
The petitions are heard before a five-member judge bench consisting of Chief Justice Jayantha Jayasuriya, Justices Buwaneka Aluvihare, Sisira de Abrew, Priyantha Jayawardena, and Vijith Malalgoda.
Mandatory provisions have been provided by the Constitution to fix a date for the parliamentary election and convene the new Parliament not later than 3 months from the dissolution of Parliament, the petitioners have argued.
Accordingly, the President had published a Gazette notification on March 02, dissolving then-Parliament and the General Election was subsequently declared to be held on April 25. However, the Election Commission later decided to postpone the poll to June 20 due to the local outbreak of COVID-19 virus, they had pointed out.
The Election Commission setting June 20 as the new date for the poll is against the provisions of the Constitution, they had stressed in their petitions.
In addition, the failure to convene the new Parliament within 3 months of the dissolution of the previous Parliament, makes the Gazette issued by the President invalid.
The petitioners say that a free and fair election cannot be held as the threat of COVID-19 virus is yet to be eliminated, adding that it is a violation of people's right to vote freely.