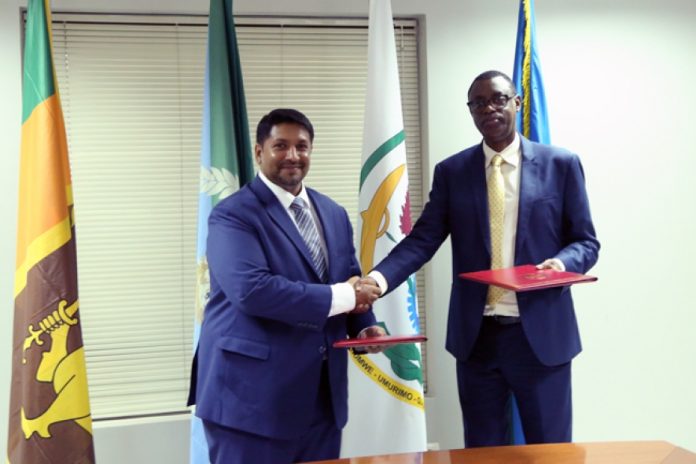 The State Minister of Defence, Ruwan Wijewardene, during his recent official visit to Rwanda signed a Memorandum of Understanding on 15th May.
The State Minister undertook this visit on an invitation extended by the Rwandan government.
The Memorandum of Understanding (MoU) on defence issues was signed during a bilateral meeting between Sri Lankan and Rwandan defence officials. The Sri Lanka delegation included the State Minister and the Secretary to the State Ministry of Defence, Sunil Samaraweera.
The host nation's delegation was led the Minister of Defence, General James Kabarebe, Chief of Defence Staff, General P Wyamvumba and Air Force Chief of Staff, Maj Gen C Karamba.
The meeting was held at the Rwandan Defence Forces (RDF HQ) Head Quarters in the capital city, Kigali.
Making a comment during the occasion, State Minister Wijewardene said that Rwanda and Sri Lanka have much to share and learn as both countries have experienced similar circumstances. This MoU would further strengthen bilateral cooperation and friendship between the two countries.
He also appreciated the recovery of Rwanda after the genocide and said that the country has set an example of recovery and collective nation building for the rest of the world.
The MoU would enhance defence cooperation in terms of exchanging of personnel for training programmes and exercises and capacity building.
At present Rwandan students and Armed Forces personnel have the opportunity to learn at the Kotelawala Defence University (KDU) and at the Defence Services Command and Staff College (DSCSC) in Batalanda.
During his visit, the State Minister also visited the Kigali Genocide Memorial and paid tribute.