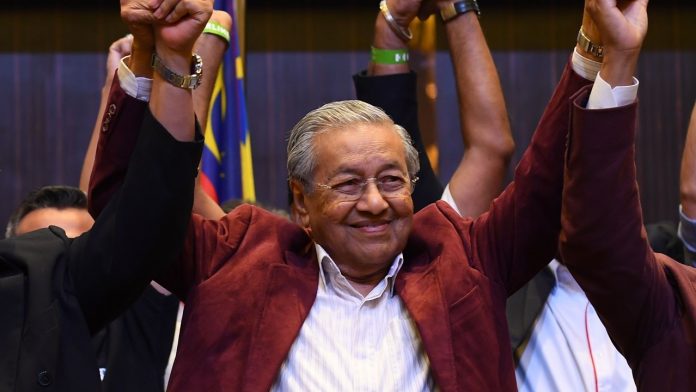 Mahathir Mohamad will become the world's oldest electeMahathird leader, after a shock victory in Malaysia's election.
The former PM, 92, came out of retirement and switched to the opposition to challenge his former protege Najib Razak, who has been beset by corruption allegations.
His historic win has ousted the Barisan Nasional (BN) coalition, which has been in power since independence in 1957.
Mr Mahathir said his coalition would "restore the rule of law".
Mr Najib has not yet commented on his dramatic loss.
Official results showed the opposition Pakatan Harapan – the Alliance of Hope – had secured 113 of the 222 being contested, including some which have never before been taken by the opposition. BN took 79 seats.
Announcing his victory in Kuala Lumpur, Mr Mahathir said his coalition had secured "not just a few votes, not just a few seats, but a very substantial majority".
He said he hoped a swearing-in ceremony would be held on Thursday and announced – to cheers among his supporters – that there would be a two-day holiday.
Mr Mahathir was prime minister, at the head of the BN coalition, for 22 years, from 1981 until he stepped down in 2003.