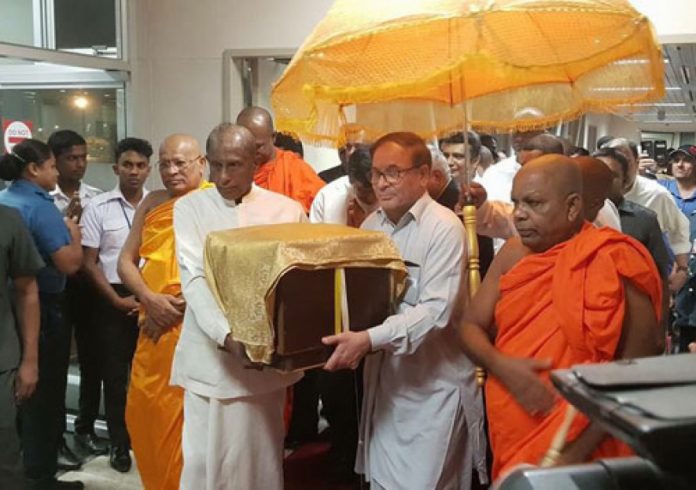 The most sacred Buddha relics from Taxila in Pakistan were brought to Sri Lanka yesterday for public exposition at Temple Trees and several temples including the Gangaramaya in Colombo. Buddha Sasana Minister Gamini Jayawickrema Perera was at the airport to receive the relics from Pakistan's state officials.
In a newspaper announcement, the High Commission said the relics are invaluable part of the archaeological heritage of Pakistan and depict the rich Buddhist history of Pakistan. The relics are sent because Pakistan wants to be part of Vesak celebrations in Sri Lanka, the High Commission said.
The relics will be kept for public veneration at Temple Trees from tomorrow till May 2nd. From May 3 to May 12 the relics will be placed in several temples which include the Sedawatte Purana Temple in Wellampitiya, Purana Vajirakoth Viharaya in Kalutara, Sumanaramaya at Kumbalwella in Galle, Getambaruwa Rajamaha Viharaya in Matara, Diyakalamulla Pirivena in Kuliyapitiya, Sripathi Pirivena in Kuliyapitiya, Sri Sarananda Maha Pirivena in Anuradhapura and Balagolla Buddhist Centre at Kengalla in Kandy and Ambanwela Raja Maha Viharaya at Welamboda in Kandy.
Siyatha TV of Voice of Asia Network (Pvt) Ltd will be broadcasting the exclusive Media coverage of the event as the Official media partner during the 4 days of this religious event comprising of special television programs and activities taking place in the area.
From May 13 to May 16, the relics will be kept in Colombo's Gangaramaya temple for public exposition.