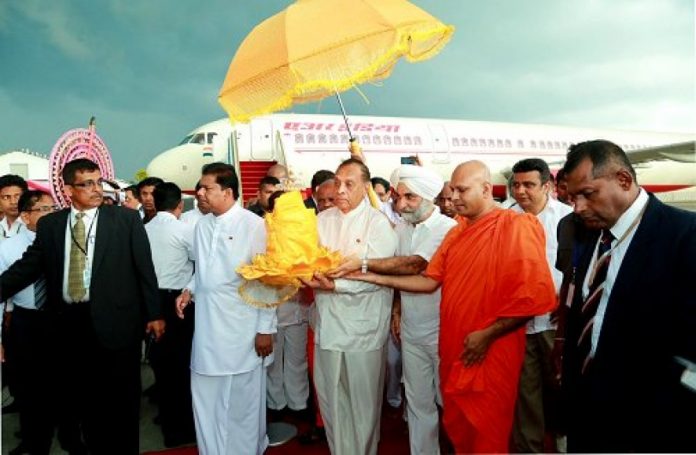 The annual Buddha Rashmi National Vesak Zone – The Largest Vesak Festival in the Country will be held at the Gangaramaya Temple and its vicinity in Colombo from 29 April to 2nd May.The annual Buddha Rashmi National Vesak Zone organized by the Hunupitiya Gangaramaya Temple and the exposition of Sacred Sarnath relics from India and other relics at the Temple Trees will be inaugurated by the President Maithripala Sirisena and Prime Minister Ranil Wickremesinghe tomorrow at 7:00 pm.
Siyatha TV of Voice of Asia Network (Pvt) Ltd will be broadcasting the exclusive Media coverage of the event as the Official media partner during the 4 days of this religious event comprising of special television programs and activities taking place in the area.
Following the opening on Sunday, the exposition will be open for public until 4 am Monday and on other days from 9:30 am to 4 am of following day. The Sacred Relics enshrined at Mulagandhakuti Vihara at Saranth in India arrived in Sri Lanka today and Speaker Karu Jayasuriya and Indian High Commissioner Taranjit Singh Sandhu amid the presence of most venerable monks received the Relics at a special ceremony held at the airport.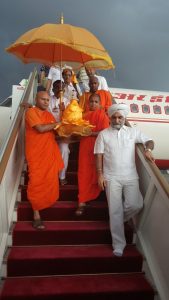 At the exposition at Temple Trees public will have opportunity to pay homage to the sacred bone relics of Buddha enshrined the Mulagandhakuti Vihara at Saranth in India, the relics enshrined in the Thakshila Museum in Punjab in Pakistan, relics from a Museum in Nagarjunakondai of Madurai and the Neelagiri relics found from Sri Lanka.
In addition, nine artifacts found in Lumbini and Tilaurakot excavations in Nepal, 16th century Buddha statutes from Bhutan and some valuable artifacts found in excavations of Sigiriya will also be displayed at the exposition.
The sacred relics from Pakistan will be displayed on May 3 at the Sedadatta Veheragoda Buddhist temple and on May 16 at Hunupitiya Gangarama Viharaya and from May 04 to May 15, in Kalutara, Galle, Matara, Kurunegala, Anuradhapura and Kandy districts, Gangaramaya Temple administrator Ven. Kirinde Assaji Thera said.
The Temple Trees exposition, will also have stalls from 26 state institutions and 7 provinces while the Buddha Rashmi Vesak Zone will consist of two pandals and 220 lanterns and cultural shows, and dansalas will also be conducted, the Chief Incumbent of Gangaramaya Venerable Galaboda Gnanissara Thera said.