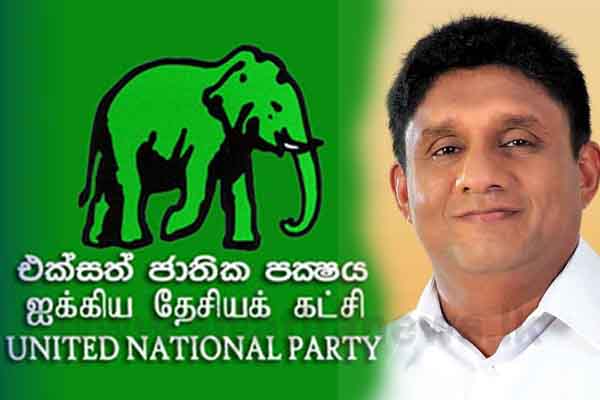 New Democratic Front (NDF) candidate Sajith Premadasa yesterday turned down the request that had been made by his rival SLPP candidate to make a formal written request from him for a public debate stating there is no need for written request if the latter is interested in such a debate. Speaking during an election rally in Biyagama which was organised by State Minister of Defence Ruwan Wijewardene yesterday, Mr. Premadasa said he is ready to debate with Mr. Rajapaksa even if he brings thousand of his associates.
"My rival has informed me to make a written request from him for a public debate. There is no time to write love letters and therefore he should come for the debate if he is interested," Mr. Premadasa said. Mr. Premadasa pledged to relax laws pertaining to sand mining and gold industry. "We will relax the laws pertaining to the sand mining industry but will ensure that it is carried out in an environmentally friendly manner," he said. He also pledged to provide free mid-day meals, uniforms and shoes to school children, to put up IT centres, Technical colleges, English language training centres and industrial zones in each divisional secretariat areas.
He also pledged to continue the Biyagama Hospital project and to construct a national school in the area. Prime Minister Ranil Wickremesinghe said November 16 this year is an important day. "It is an important day for the people and not for me or your candidate Sajith or for Ruwan but for the people of this country as it will be a day where the country's future would be decided. It is a day when you decide on how to ensure a secured future. You must decide whether you are going to have a debt-free nation, a nation where there are no white elephants such as the Mattala Airport and whether the country should go ahead with mega projects. You must decide whether you want to see the Colombo Port becoming the main port in the Indian Ocean region," he told the crowd at the rally.
Mr. Ruwan Wijewardene said people do not want an administration where there are local politicians who make school teachers kneel, they don't want an era where local politicos get estate superintendents killed as happened in Ratnapura. "Country wants a dynamic leader and the UNF led alliance has selected such a candidate for the presidency," he said. "People such as MP Wimal Weerawansa is shouting saying we have allowed the USA to set up military bases in Sri Lankan soil. However he is promoting a US Citizen for the country's presidency, "he added.
Field Marshal Sarath Fonseka said a future government spearheaded by Mr. Premadasa will set up a special security unit to deal with the drug menace. "We will do something tangible about the drug issue during the first two months and would eradicate it completely within two years," he said.
Also, he said Chairman of the Election Commission has been empowered to conduct free and fair polls with the constitutional reforms introduced by the present government. " We have made the Chairman of election commission a superman. He is also active like Tarzan unlike the election commissioners in the past who suffered from tension," Filed Marshal said.