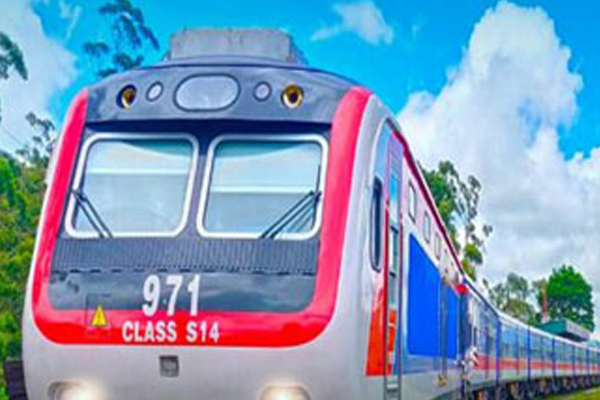 The imported new S14 Chinese Power Set named "Denuwara Menike" would be operating between Badulla and Colombo Fort from November 1 for use in the upcountry railway service, the Railways Department said.
Speaking to the media, The Railways Deputy Commercial Superintendent W. D. R. Padmalal said the train consists of two air-conditioned (AC) compartments, two-second class compartments and three third-class compartments including a buffet car.
"The Denuwara Menike train leaves from Colombo Fort from November 1 at 6.45 a.m and will reach Badulla at 3.27 p.m. The same train will leave from Badulla at 7.20 a.m and reach Colombo Fort at 4.03 p.m.," he said.
"The train can transport a total of 250 commuters including 88 in AC compartments, 96 in second class compartments and 266 in third class compartments," he said.
"The train fares (per seat) for Badulla from Colombo Fort on AC compartments would be Rs.1,700, Rs.1,000 will be charged for second class compartments. Rs.700 will be charged for the third class compartments," Mr. Padmalal said.
The new train will carry a "black box" similar to those in aircraft. It was bought for Rs.1,845 million from the China Railway Rolling Stock Corporation (CRRC).
Commuters can make pre-ticket bookings via main train stations including Colombo Fort and with the use of mobile seat booking applications, he said.
"We would commission the train on the route with the maximum capacity. It will cater to the destinations of Polgahawela, Rambukkana, Peradeniya, Kandy, Gampola, Nawalapitiya, Hatton, Talawakelle, Nanu Oya, Ambewela, Pattipola, Haputale, Diyatalawa, Bandarawela, Ella, Demodara and Badulla," he said.