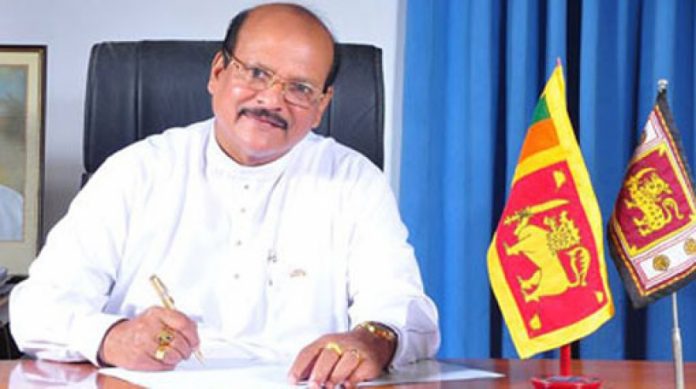 A ceremony to lay the foundation stone for the new Seema-Malakaya at the Sri Salavana Temple in Polgolla, Kandy was held yesterday (August 13) under the auspices of Speaker Karu Jayasuriya.
The event was attended by Mahanayake of the Asgiriya Chapter of the Siam Sect, Venerable Warakagoda Sri Gnanaratana Thero, Mahanayake of the Amarapura Maha Sangha Sabha, Venerable Kotugoda Dhammawasa Thero and Mahanayake of the Ramayana Sect, Venerable Napane Premasiri Thero.
Following the event, journalists questioned the North Central Province Governor, Sarath Ekanayake if there were discussions held with the SLPP regarding the Presidential Election.
Responding to this Governor Sarath Ekanayake noted that as the SLFP they have always formed an alliance with a progressive front to grasp the power over the state. He noted that he is of the opinion that there is not a single party in this country that can claim 50% of the votes by operating on their own and when that happens the main thing to do is to form an alliance with another suitable group.
Governor Ekanayake noted that as the SLFP they can name SLPP as the most suitable group and current discussions on an alliance are being held as a result of their attempts. He added that during the fundamental level discussions, both the parties agreed on one policy, however, the Presidential Candidate was not discussed at any time.
He said whoever the Presidential Candidate is, it was discussed to lead him to victory through the alliance formed between the two parties. He noted that obtaining the membership of the SLPP as the SLFP was not discussed at any time. He stressed that no advice was received in that regard.