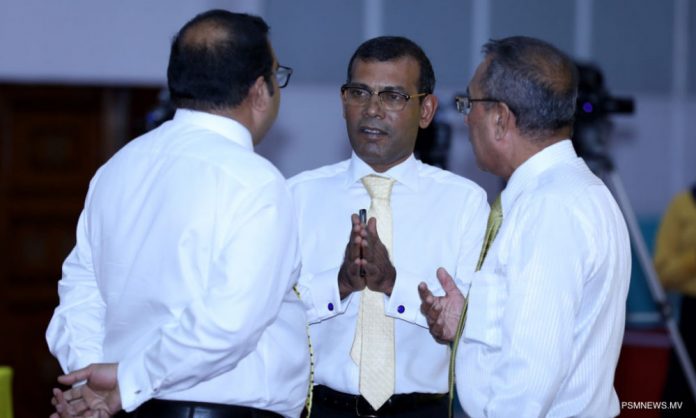 The Maldivian Democratic Party (MDP) MPs have voted unanimously Monday night to choose former president Mohamed Nasheed as the next Speaker of parliament, Maldives Independent reported today.
It said the 'surprise' move came after a divisive campaign between Mohamed Aslam and Hassan Afeef that saw infighting among the MDP's 65-member parliamentary group and the vilification of both contenders by supporters on social media.
Media speculation of a split into rival factions grew as hostilities spilled over and an unnamed minister was accused of threatening to withhold projects while lobbying for Afeef.
Activists were gathered outside the Dharubaaruge convention centre in Malé when the incoming lawmakers met to resolve the political drama. Nasheed chaired the televised meeting as the MDP's president.
Speaking after his name was put forth, Aslam alleged interference by government officials and members of other parties, declared that he did not wish to be the cause of discord and anxiety "in our big party" and nominated Nasheed in the interests of unity.
"In my view, this contest has grown much wider than a contest between Mohamed Aslam and Hassan Afeef," the three-term MP for Hithadhoo North said.
Aslam said he had reached the decision after consulting with Afeef, who served as home minister during Nasheed's administration.
When Nasheed refused to accept the nomination, Afeef pleaded with him to reconsider. Disunity among the majority party's lawmakers could derail its legislative agenda, the MP-elect for Vilufushi warned.
As the group backed Aslam and Afeef's proposal with applause, Nasheed excused himself to phone "a very close friend," presumed to have been President Ibrahim Mohamed Solih.
"This is really not how I wanted this to happen tonight even up to the last minute," he said upon returning, and accepted the nomination, which was promptly approved by his 64 colleagues in a show of hands.
MP Eva Abdulla as the sole contender was nominated for deputy speaker. Both nominees are expected to sail through as the MDP controls nearly three-quarters of the 87-member house.