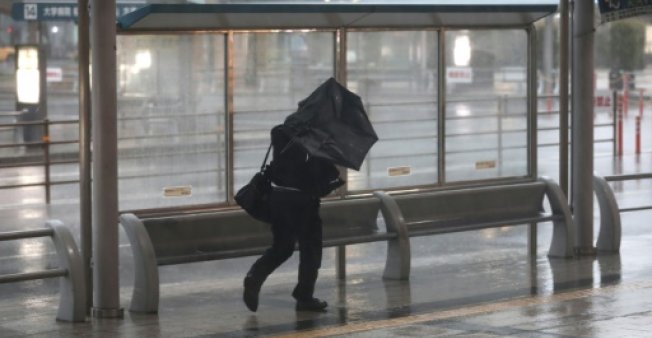 A powerful typhoon hurtled toward Japan's mainland Sunday after injuring dozens on southern islands, as weather officials warned that fierce winds and torrential rain could trigger landslides and floods.
Typhoon Trami has already sparked travel disruption in the world's third-biggest economy, with bullet train services in the west of Japan suspended and almost 1,000 flights cancelled due to the closure of a key airport hub.
Television footage showed cars in Okinawa island flipped over by the strength of the wind. Several houses were flooded or damaged and 38 people sustained minor injuries but no one was feared dead, local officials said.
Authorities issued evacuation advisories to some 349,000 residents, while electricity was cut to more than 300,000 houses, according to public broadcaster NHK.
Trami is the latest in a series of extreme natural events in Japan, which has suffered typhoons, flooding, earthquakes and heat waves in recent months, claiming scores of lives and causing extensive damage.
Packing maximum gusts of 216 kilometres (134 miles) per hour near its centre, Trami was forecast to hit the mainland later Sunday and travel over most of the archipelago, causing extreme weather into Monday, forecasters said.
Maintaining its "very strong force," the storm churned near Kagoshima on the western tip of Japan, causing seven minor injuries.
"We are strongly urging our residents to stay indoors because it is extremely dangerous to be outside now," Masaaki Tamaki, an official of Kagoshima's disaster management section, told AFP.
The Japanese meteorological agency issued a special warning of landslides and floods in Kagoshima and Chiba, while saying heavy rain seen once in half a century has been monitored in Yakushima island, southern Kagoshima.
Strong winds and downpours could trigger landslides and floods as well as lightning strikes and tornados across the nation, said the agency, warning that waves and wind could reach record levels.
Western regions are still recovering from the most powerful typhoon to strike the country in a quarter of a century in early September. Typhoon Jebi claimed 11 lives and shut down Kansai Airport, the main regional airport.
Deadly record rains also hit western Japan earlier this year and the country sweltered through one of the hottest summers on record.
Also in September, a magnitude 6.6 earthquake rocked the northern island of Hokkaido, sparking landslides and leaving more than 40 people dead.