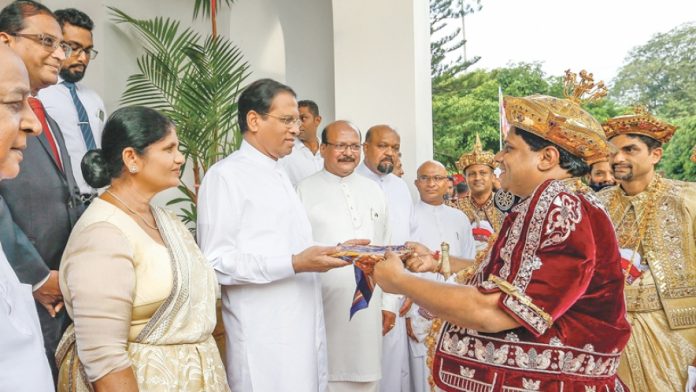 In keeping with traditional customs, Diyawadana Nilame (Custodian) of the Sacred Sri Dalada Maligawa Nilanga Dela Bandara, along with the Basnayake Nilames of the four Devales, presented the traditional communication of the successful conclusion of the Kandy Esala Perahera (Sannasa) to the Head of State, President Maithripala Sirisena at President's House in Kandy yesterday.
The Final Randoli Perahara of the Historic Temple of the Sacred Tooth Relic concluded with much pomp and pageantry last Saturday evening (August 25th).President Maithripala Sirisena also viewed the procession. The final Perahara commenced at the auspicious time of 7.58 PM yesterday (August 25). The procession which began at the temple toured the Dalada Veediya, the Yatinuwara Veediya, Kande Veediya and DS Senanayake street.
Local and foreign devotees arrived in Kandy to witness the Historic Perahera celebrations. While around 70 elephants took part in the Perahera it was made colorful by several dance items. The Nadungamuwe tusker had the privilege of carrying the receptacle of the Sacred Tooth Relic.
The "Diya Kapima" ceremony of the four great Devalayas, the Natha, Vishnu, Kataragama and Paththini Devalayas, was carried out following the Perahera early this morning (August 26).The Perehera to carry back the sacred receptacle to the temple of the Sacred Tooth Relic from the Asgiri Gedige temple was held this afternoon. The receptacle was carried by the Singharaja Elephant of the temple of the tooth relic.
The epistle of the successful conclusion of the 10-day long Perahera activities was handed over to the President by the Diyawadana Nilame Nilanga Daala and the Basnayake Nilames. The event was held at the President's Official residence in Kand