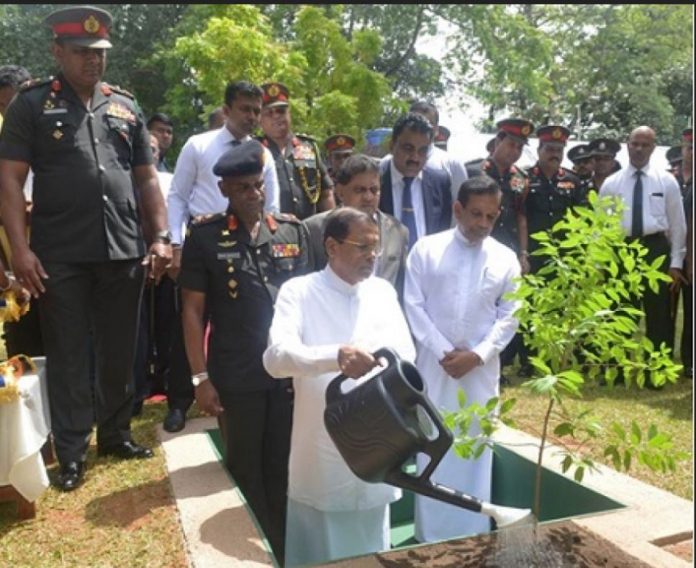 Sri Lanka Army launched another mega nation-building project to plant more than 135,000 herbal saplings inside all island-wide Army formations in collaboration with the Sri Lanka Ayurvedic Drugs Corporation (SLADC).
The launching ceremony of the project was held yesterday (9th Aug.) at Viharamahadevi Park under the patronage of President Maithripala Sirisena.
The Army under the Presidential Secretariat's 'Punarudaya' (Re-awakening) project undertook the responsibility for cultivation of sandalwood, red sandalwood, aloe vera (Komarika), pawatta, pomegranate seedlings, etc. inside all formations under the seven Security Force Headquarters (SFHQ) around the country.
Inaugurating the environment-friendly project symbolically, President Sirisena handed over the first herbal sapling to the Commander of the Army, Lieutenant General Mahesh Senanayake before the President himself joined the program by planting one white sandalwood sapling in the Viharamahadevi Park premises.
The day's program began with the arrival of the President to be received by Dr Rajitha Senaratne, Minister of Health and Indigenous Medicine and officials of the SLADC. Recital of the national anthem and the two-minute silence in honour of all fallen War Heroes paved the way for speeches of the Minister Dr Rajitha Senaratne and the Chairman, SLADC. Afterwards, the President made a brief speech to the occasion.
SLADC is to provide all those 135,000 saplings to the Directorate of Agriculture of the Army on a staggered basis for distribution under the close supervision of Brigadier Buwaneka Gunaratne, Director, Directorate of Agriculture following directions, given to him by the Commander of the Army.
Accordingly, Security Force Headquarters – Jaffna will receive 39,300 plants, Security Force Headquarters – Wanni 11,400 saplings, Security Force Headquarters – East 11,062 plants, Security Force Headquarters – Kilinochchi 34,521 plants, Security Force Headquarters – Mullaittivu 12,500 plants, Security Force Headquarters – West 14,111 plants and Security Force Headquarters – Central 6,912 seedlings in addition to the distribution of 8,678 plants in Anuradhapura, 2,042 in Vavuniya and 681 in Mannar, beginning next week.
Considering the prevailing space limitations in congested areas, Directorate of Agriculture with the sponsorship provided by the SLADC has taken steps to distribute 7,800 pots for cultivation of those plants under the close supervision of each SFHQ.