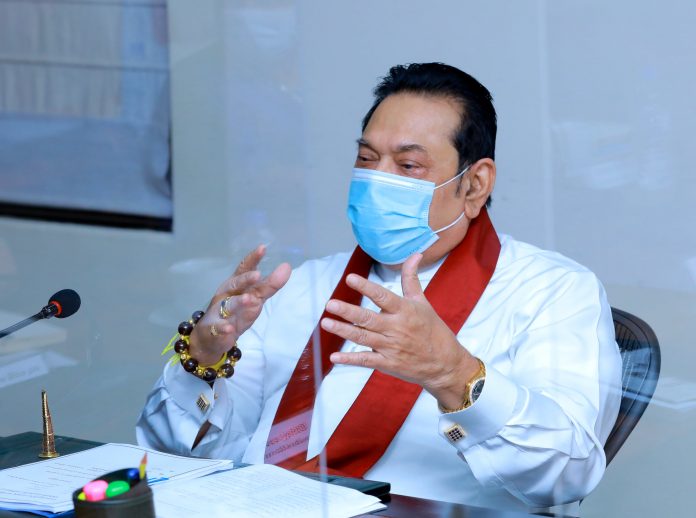 The proposed project to develop the Kollupitiya mall was inaugurated in front of Hon ' ble Prime Minister Mahinda Rajapaksha yesterday, 2021.03.12 at the Araliyagaha Mandir.A new commercial and housing complex is going to be built with 39 apartments in the current location of the Kollupitiya market.
Its first, second and third floors are all for the mall.A 30-story superb house complex built on two towers from the eighth floor to the top.
The Prime Minister inquired if there is space for someone who wants to sell some mangoes, fruits or vegetables under the new development project.
Colombo mayor Mrs Rosy Senanayake expressed confidence that a special place has been reserved here to sell vegetables and fruits.Accordingly, the Prime Minister advised general traders to compulsorily allocate a location in the new mall to sell their crops.
It's a specialty that this new mall is designed as a tourist attraction and a way to capture local cuisine culture.Even though the parking of vehicles is limited to 30-40, the new project will bring the facility of parking of 348 vehicles.Mr. Dhananjana Amarasekara, Managing Director of Design One Company, Veteran Architect, is here to develop the Kollupitiya Mall.
Explained the project model to the Prime Minister.After the approval of the Colombo Municipal Council, the proposed project is to be handed over to the cabinet approval. To be finished in three yearsLooking forward to laying the first stone in April for this new project.The Urban Development Authority, Colombo Municipality and its upcoming investment company are working together on this new project.
Minister of State Dr. Nalaka Godahewa, Prime Minister of Staff Yoshitha Rajapaksha, Mayor of Colombo Rosi Senanayake, Secretary to Ministry of Urban Development and Housing Sirinimal Perera, UrbanChairman of Development Authority Harshan De Silva, Director General N. P. K Ranaweera, Managing Director of Design One Company, Veteran Architect Dhananjana Amarasekara and a group of gentlemen were there.