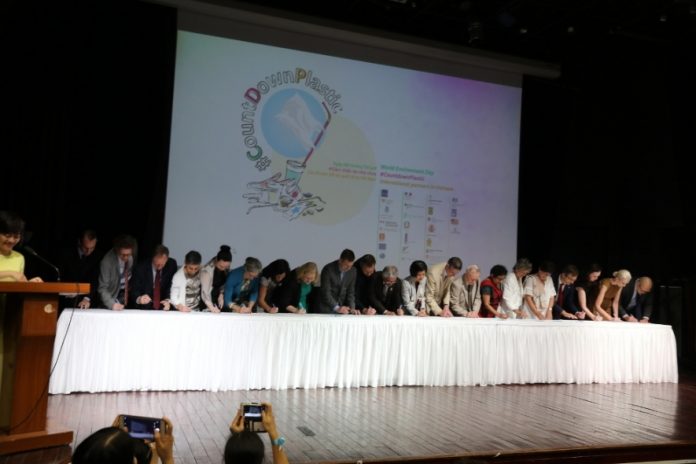 Coinciding with the World Environment Day, a "Code of Conduct on combating Plastic Pollution" was signed by 41 Embassies and International Organizations based in Ha Noi on 4th June 2018.
Embassy of Sri Lanka in Ha Noi was the only diplomatic mission to sign the "Code of Conduct" representing a developing country.
The "Code of Conduct" was initiated by the Embassy of Canada and several other Embassies in Ha Noi together with the Ministry of Natural Resources and Environment of Vietnam and the Ha Noi People's Committee.
Respecting the well-being of the host country – Viet Nam, supporting sustainable development in Viet Nam and its efforts to address a global environment issue while showcasing Sri Lanka's strong commitment to make its own contribution to plastic pollution reduction, the Embassy of Sri Lanka signed up to the Code of Conduct.
This Code of Conduct is aimed at minimizing the use of plastic and generating plastic waste by encouraging employees on the need to reduce plastic waste and share information and knowledge on how to refuse, reduce, reuse and recycle plastics at the household level. Further, it is also envisaged that those signed up would also encourage their partners in government and private sector and other entities, such as suppliers and service providers to adopt low or no plastic waste-emitting options whenever and wherever possible.