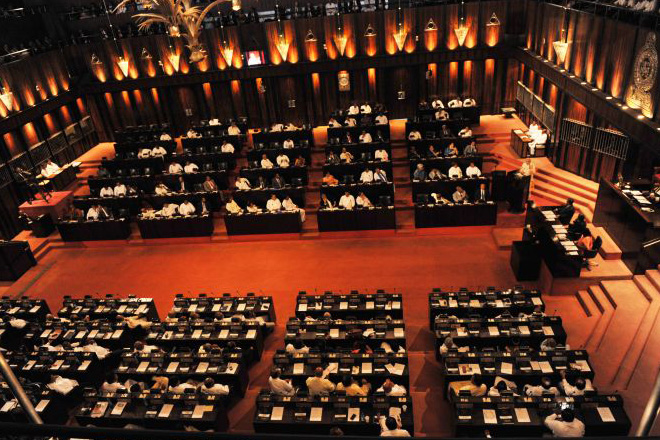 Speaker Karu Jayasuriya yesterday informed Parliament that leaders of the political parties which represent the House will meet today to decide on the date when the no-confidence motion submitted by the joint opposition against Minister of Industry and Commerce, Resettlement of Protracted Displaced Persons, Cooperatives Development and Skills Development Rishad Bathiudeen.
Speaker assured that the date for the debate on the no-confidence motion will be decided today in response to the request made by the joint opposition, JVP and some TNA Members. However, he dismissed a request made by the joint opposition to call up a party leaders meeting yesterday itself.
"We can fix up a date for the motion tomorrow I cannot help if you can't wait for 18 more hours to get a date fixed. Please don't use threats," he told some joint opposition MPs who became aggressive. The situation became tense at the end as a result of the aggressiveness of the MPs.
Leader of Opposition Mahinda Rajapaksa also requested Speaker to adjourn the sessions and call up a party leader's meeting to decide on a date. "There is no need to delay as you can simply adjourn the House for some ten minutes and fix a date for the debate," Mr. Rajapaksa said.
Prime Minister Ranil Wickremesinghe requested the speaker to fix a date for the no-confidence motion as there was no issue in doing so. Also, he said the proposed select committee could also probe Minister Bathiudeen. He then said an amendment will be brought in to the motion of appointing a select committee to enable probing of any MP.
Joint Opposition MPs Shehan Semasinghe, Kanchana Wijesekera, Padma Udayashantha Gunasekersa, Indika Anurudhha, Mahindananada Aluthgamage and few others insisted that people want justice done to the Easter Sunday Bomb victims, and therefore, the no-confidence motion should be taken up.
TNA MP S. Viyalendran said justice has to be meted out to the victims of Zion Church bomb Blast as well. TNA MP Charles Nirmalanathan said some action should be taken against Minister Bathiudeen as he adopts dictatorial approach when it comes to dealing with his ministerial purview. This he said he has so many institutions under his ministry.