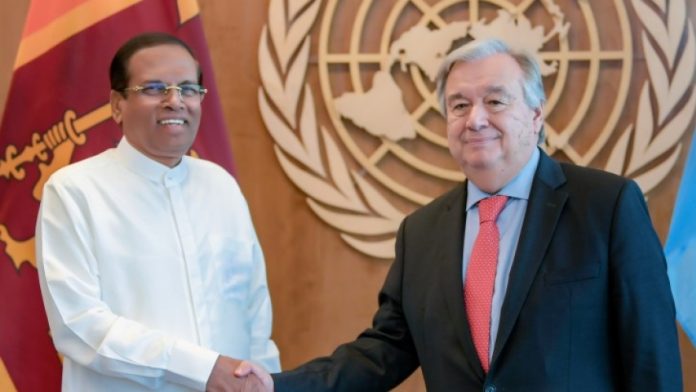 President Maithripala Sirisena briefed the United Nations Secretary General, Antonio Guterres about Sri Lanka's progress in strengthening democracy, rule of law, media freedom and reconciliation. He said this during a meeting at the UNSG's office on the 27th Floor of United Nations Headquarters in New York.
The President said that during the last three and half years, the country has made progress in many fronts and his government would continue to work towards reconciliation. He urged the international community to look at Sri Lanka with a fresh perspective taking into consideration the progress made so far.
Secretary General warmly greeted President Maithripala Sisena and the delegation comprising ministers Tilak Marapana, Champika Ranawaka, Mano Ganeshan and Permanent Representative to UN, Dr Amrith Rohan Perera.
Mr Guterres recalled his last visit to Sri Lanka and said he has fond memories of Anuradhapura, Polonnaruwa and Sigiriya. The President invited the Secretary General to pay another visit to Sri Lanka and see with his own eyes the vast developments taken place in the country. Accepting the invitation, Mr Guterres said he would visit at the earliest possible.
Mr Guterres said he deeply appreciates the difficult and complex challenges faced by Sri Lanka and said the United Nations would continue to extend support to Sri Lanka's efforts towards reconciliation. He praised Sri Lanka's good work in peace building, human rights and UN peace keeping. President Sirisena said Sri Lanka considers climate change as a major challenge and said Sri Lanka is the first South Asian country to ratify the Paris Protocol on Climate Change.