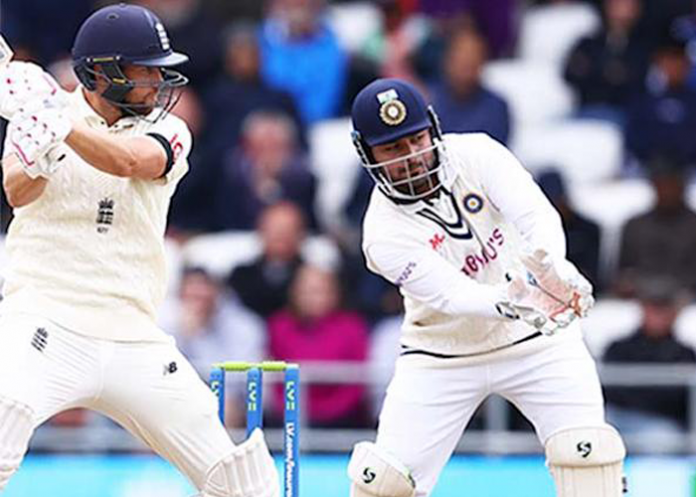 The cricket world is torn over whether Dawid Malan's dismissal should have been reversed after a controversial moment with Rishabh Pant's gloves in the Third Test between England and India.
England captain Joe Root initially left the cricket world in a frenzy after equalling an extraordinary batting record in the third Test
'MAKES ME SICK': England caught in 'shameful' $4m cricket drama
'WHAT A DISGRACE': Virat Kohli savaged over 'horrible' drama
'STABBING HIM IN THE BACK': Ugly new twist in Justin Langer saga
Continuing the best form of his life, Root scored his third century of the series against India to move England into prime position to win the third Test at Headingley.
But, during Root's heroics, the dismissal of Malan caused uproar.
Malan was caught behind by Pant on the ball before tea.
But, controversy erupted when Pant was found to have taping between two fingers on the gloves.
The rules of cricket only allow webbing between the index finger and the thump on the gloves.
Pant returned after the break and the umpires asked him to remove the taping.
However, this sparked a fierce debate on whether Malan's dismissal should have stood.
"There's lots in the laws of the game about the webbing but we're hearing from the third umpire, Richard Illingworth, that he wasn't allowed and he's not allowed to tape his gloves like that, so they've asked him to take that tape off," Nasser Hussain said on Sky Sports.
"It's a very interesting point you made, when Dawid Malan was caught down the leg side did the wicket keeper have that tape on his gloves? Is it a problem?" David Lloyd replied.
There was confirmation Pant did have his gloves taped up before tea, during Malan's dismissal, but there was no rule to allow a reversal of the wicket.
Source By:yahoo.com