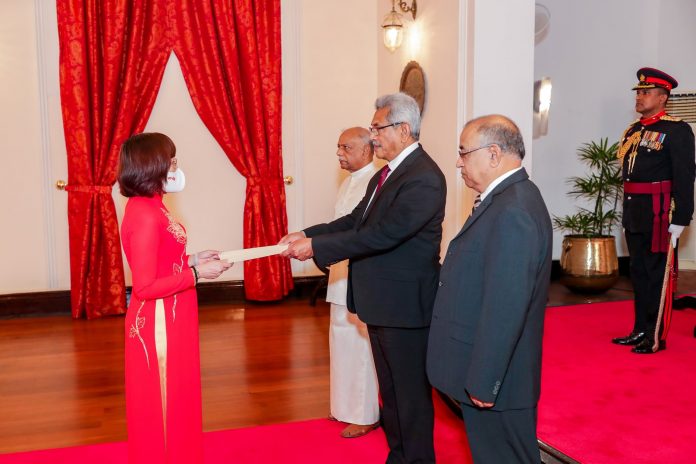 Newly appointed to Sri Lanka, Ambassador of the Socialist Republic of Vietnam or Mrs. Thei Thanh Truc (Ho Thi Thanh Truc) presented her credentials to President Gotabhaya Rajapaksha at the President's House yesterday (30).
The President Rajapaksha and the new Vietnam ambassador later shared their views on current bilateral relations and future cooperation growth.
Vietnam government and people's congratulations to the President or Mrs. Thethan Truck noted that Vietnam has given Vietnam a top priority in relations with Sri Lanka.The support received from Sri Lanka at the difficult age where the country was facing was the ambassador's admiration. The ambassador said he will do everything possible to further strengthen the cooperation and friendship between the two countries during his tenure.The president who started talks appreciating the long-term friendship between Vietnam and Sri Lanka explained his government's social, economic philosophy to the ambassador. ′′ Agricultural economic development, poverty backing, increasing the income of the villagers are some of our priorities.
The plans to achieve that goal are now in action. Their ultimate goal is to achieve a happier living situation on any social level like low income, middle income, rural, urban etc.
We don't look at development from a racial perspective. Considering the people as a whole ′′ said the President.Farmers belonging to every community will benefit from assuring higher prices by subsidizing V and other agricultural crops, said Rajapaksha. He noted that no one was killed by terrorist violence after defeating the separatist war and was able to create huge development in the country.The president who requested Vietnam to identify and take advantage of the investment space in the Sri Lankan economy showed that the trade and tourism between the two countries could continue to grow.
The Vietnam Ambassador assured that Vietnam businessmen will be given a high priority to encourage investments in Sri Lanka and the growth in the trade and tourism sector.Sri Lanka – Vietnam Ambassador relations started on 1970 July 21Foreign Minister Dinesh Gunawardena, Presidential Secretary P. B. Jayasundara, Foreign Secretary Admiral Jayanath Colomboge, Deputy Head of Vietnam Embassy, Mr. Tran Throng Than, joined the speech.