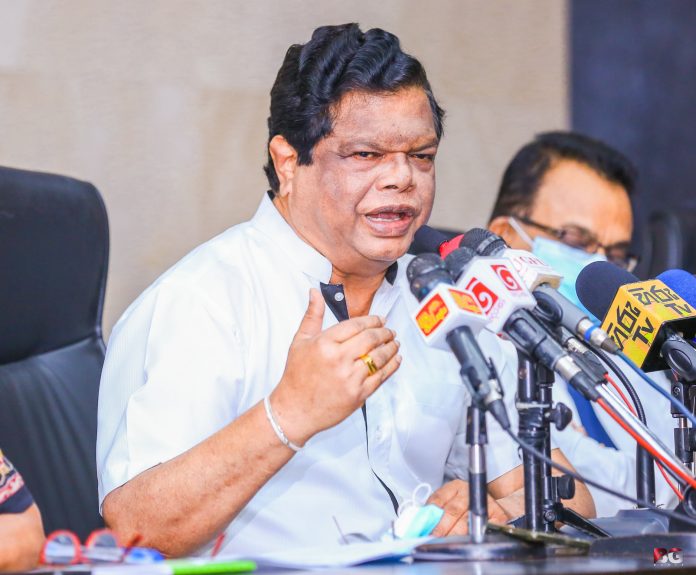 The Trade Ministry had decided to reduce the prices of 27 essential goods for three months from Monday (8).
The decision was taken (while marking??) a turning point of the economic sector.
The price-reduced essential items could be purchased from Sathosa, Cooperatives and Q- shops.
Prices of 27 essential goods have been reduced and will be maintained for a period of three months, says Minister of Trade Bandula Gunawardena.
Accordingly, the price reduction will come into effect from Monday (February 08).
The relevant items will be sold only through Lanka Sathosa, cooperatives and Q-shops, the minister said addressing a press conference held at the Ministry of Trade today.
|  Essential items |  Previous Price |   Reduced Price |
| --- | --- | --- |
| Red Raw Rice (1kg) |  Rs. 106 |  Rs. 93 |
| White Raw Rice (1kg) |  Rs. 105 |  Rs. 93 |
| White Nadu (1kg) |  Rs. 109 |  Rs. 96 |
| Samba (1kg) |  Rs. 120 |  Rs. 99 |
| Keeri Samba |  Rs. 140 |  Rs. 125 |
| Wheat flour |  Rs. 105 |  Rs. 84 |
| White sugar |  Rs. 110 |  Rs. 99 |
| Brown sugar |  Rs. 140 |  Rs. 125 |
| Tea (100g) |  Rs. 130 |  Rs. 95 |
| Australian red lentils (1kg) |  Rs. 188 |  Rs.165 |
| Indian Big Onions (1kg) |  Rs. 140 |  Rs. 120 |
| Local potatoes (1kg) |  Rs. 220 |  Rs. 180 |
| Pakistani potatoes (1kg) |  Rs. 190 |  Rs. 140 |
| Chickpeas (1kg) |  Rs. 225 |  Rs. 175 |
| Dried chilli (1kg) |  Rs. 550 |  Rs. 495 |
| Local canned fish (425g) |  Rs. 240 |  Rs. 220 |
| Imported canned fish (425g) |  Rs. 280 |  Rs. 265 |
| Thai sprats (1kg) |  Rs. 430 |  Rs. 545 |
| Skinned chicken |  Rs. 430 |  Rs. 400 |
| Crystal salt (1kg) |  Rs. 55 |  Rs. 43 |
| Powdered milk (400g) |  Rs. 380 |  Rs. 355 |
| Soybean oil (500ml) |  Rs. 470 |  Rs. 310 |
| Laundry soap– BCC (115g) |  Rs. 53 |  Rs. 43 |
| Laundry soap (650g) |  Rs. 325 |  Rs. 260 |
| Body soap (100g) |  Rs. 63 |  Rs. 56 |
| Handwash (100ml) |  Rs. 350 |  Rs. 250 |
| Face masks (SLS certified) |  Rs. 25 |  Rs. 14 |