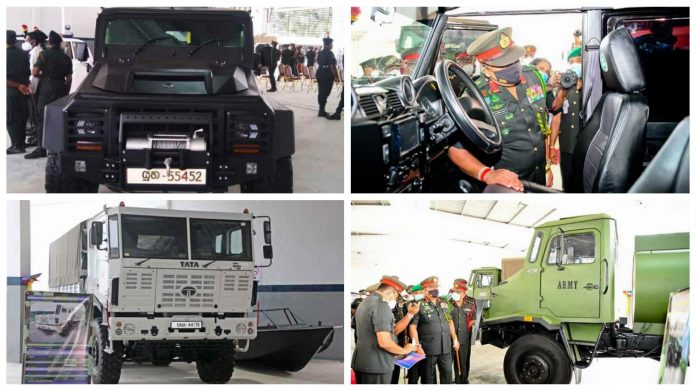 Lieutenant General Shavendra Silva, Chief of Defence Staff and Commander of the Army on 12th December placed the cornerstone for the construction of the state-of-the-art new Base Workshop building of the Sri Lanka Electrical and Mechanical Engineers (SLEME) Regiment which has already made a breakthrough in many an innovative product of international standards.
"The SLEME's electrical and mechanical engineers in the past few months have made new great strides in producing a fleet of new vehicles of high standards, some of which like Unicorn buffels have already received the UN recognition for use in overseas peacekeeping missions. Lately, its support to the control work of COVID-19 in the country by way of supplying all technical equipment, accessories and vehicles is significant and symbolized its potential and the innovative knowledge that SLEME workforce possessed. It is truly a matter of pride to all in the Army," the day's Chief Guest for the foundation-laying remarked addressing the SLEME troops after the inaugural phase.
The workshop was earlier operational in a small area inside the Kosgama Army Industry complex.
The new base workshop, housed in a 4-acre plot of land using completely renovated steel structures that would accommodate production of heavy vehicles spaciously, needed for nation-building roles and national security tasks of the tri services is believed to be the biggest such workshop among the tri services, capable of introducing a wide assortment of innovations in future.
Depicting their electrical and mechanical prowess, a remote-controlled vehicle, made out of an old military jeep then facilitated the passage of the day's Chief Guest to the parade ground for him to receive the salute of the formal Guard of Honour.
The Army Chief visited the existing workshop premises and marked the opening of the small arms section inside the compound.
Inside it, SLEME innovators impressed the day's Chief Guest by presenting a few SLEME-innovated vehicles (AVALON 6×6, AIMOV 4×4 and UniCOLT), through which AVALON 6×6 is capable of gathering artificial intelligence with real-time information from any terrain with the help of its sophisticated accessories, including cameras, drones, bullet-proof accessories and jammers, etc.
This vehicle has been produced to support UN missions and the SLEME expects the UN green light to commence its manufacture in future.