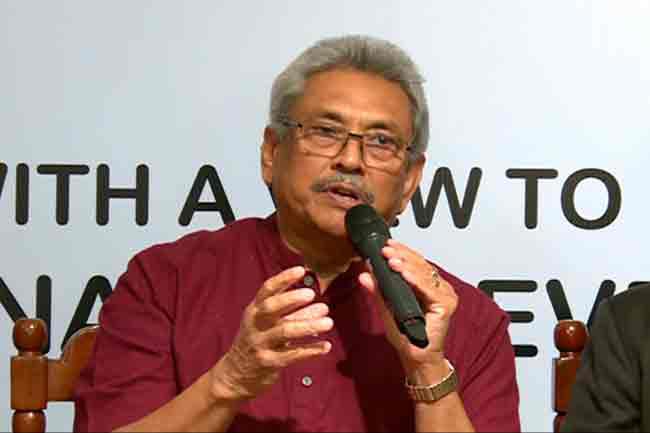 The Presidential Candidate of Sri Lanka Podu Jana Peramuna, Gotabaya Rajapaksa met with the Professional Tutors Association in Colombo yesterday(October 13). The meeting was attended by the tuition class teachers and public representatives pledging support to the SLPP Presidential Candidate Gotabaya Rajapaksa.
Gotabaya Rajapaksa noted that during his tenure he would primarily focus on enhancing education, he added that compared to other countries in the world, Sri Lanka is not investing enough for education.
Candidate Rajapaksa stated that during his tenure as the Secretary of Defence he received a letter stating that 800 graduates will be enrolled in the Defence Ministry which was puzzling as he did not know what to do with them.
He went on to note that employment opportunities could not be given in this manner. He added that there had been ministers in the past who had boasted about employing 3000-4000 individuals, however, none claimed that they have created job opportunities.
He noted that the current way would not help the economy or the younger generation. He questioned what was the use of job opportunity that could generate a revenue of Rs 20, 000? He went on to note that they should change their education system to suit the world job market.
The Professional Tutors Association handed over a proposal to Gotabaya Rajapaksa during the event.