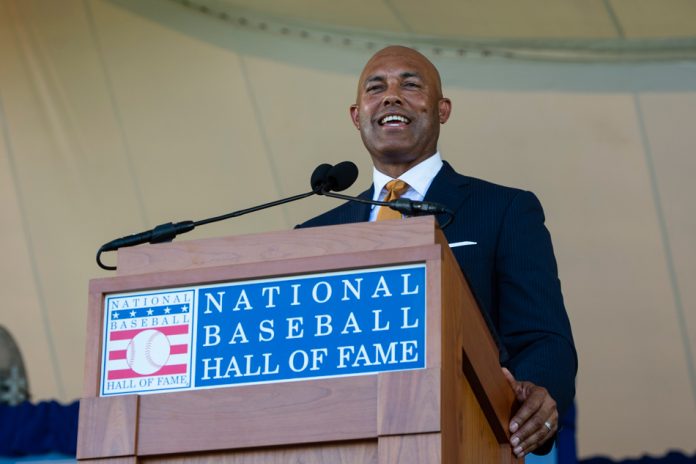 Legendary New York Yankees closing pitcher Mariano Rivera, the first player unanimously voted into the National Baseball Hall of Fame, was a fitting closer at the 2019 induction ceremonies on Sunday.
The Panamanian capped an emotional day in Cooperstown, New York, where he was inducted along with fellow closing pitcher Lee Smith, starting pitchers Mike Mussina and Roy Halladay and sluggers Edgar Martinez and Harold Baines.
Rivera and the late Halladay were the 55th and 56th players to be voted into the hall on their first ballot.
Halladay was named as a first ballot entrant in January, just over a year after his death at the age of 40 in a plane crash in the Gulf of Mexico in 2017.
Rivera's 425 votes were unprecedented in the history of Hall of Fame voting by the Baseball Writers Association of America, an acknowledgement of a 19-season career with the Yankees in which he produced 652 saves.
A 13-time All-Star, Rivera helped the Yankees win five World Series titles and seven American League pennants.
His presence helped draw a crowd of some 55,000 to the ceremony, and he said fan support had buoyed him throughout his career.
"You guys always pushed me to be the best," he said. "When I was at Yankee Stadium pitching, it felt like I was pitching with 55,000 people next to me throwing one pitch after another.
"You guys are the best and man, without your support, I cannot do it. You always pushed me to the limit."
Rivera spoke movingly of growing up a fisherman's son who dreamed of emulating Pele on a football field before finding baseball.
When he had his first chance to try out for the Yankees, he said: "I had no uniform. My spikes had a big hole in my big toe. I didn't have a glove. But I went."
It is something that crossed everybody's mind over the past several months, but never more so than Sunday.
Halladay's wife, Brandy, spoke on his behalf, telling the crowd she would "do the best I can to say the things I believe Roy might have said or would have wanted to say if he was here today".
"The thank yous could and should go on for days when you consider the impact so many people had on Roy's career," she said.
"I know how honored Roy would be to be sitting here with such accomplished men. Thank you for being such a good example to him and to supporting him in his career. This is not my speech to give."