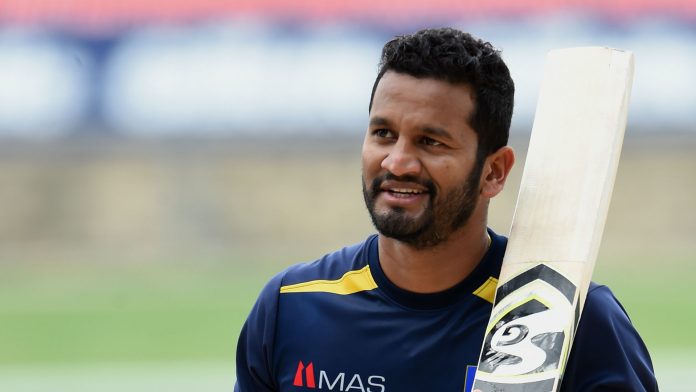 Sri Lanka's skipper Dimuth Karunaratne is expecting to bounce back to the ICC World Cup tournament with the win against Afghanistan. Sri Lanka will play against Pakistan today (07) at Bristol.
Sri Lanka beaten against New Zealand at the tournament opener and managed to beat Afghanistan as the 1st win.
The Full transcript of the Press conference as follows
Pakistan is known for its unpredictable nature and you always guess which Pakistan team will turn up. Does that add pressure or give a relaxation that you can beat Pakistan?
DIMUTH KARUNARATNE: Yeah, Pakistan is an unpredictable team, but I think we also come into this game, I think we have a bit of confidence so we will be trying to give our best shot, you know. We are not over-confident as well. And we are trying to do our best. We will see tomorrow (smiling).
Q. The win that came against Afghanistan was one that your team really wanted. I mean, what has it done to your team where practices are concerned and looking ahead to tomorrow's game?
DIMUTH KARUNARATNE: We just need a win for — it always give us the confidence if you get a win, any team, with any team, that is what we want. Finally, we got that. After that, we did really good things in that particular match, but I think — and also we have some parts to learn more, many things about the batting.
We just need to focus on those things and try to make sure those things are not happening in the Pakistan match as well. But I think overall we are confident for the Pakistan team.
Q. Have you had a chance to take a look at the pitch? If it's still going to be a green top, is there a chance that you may want to strengthen your struggling middle order by leaving out one of the fast bowlers?
DIMUTH KARUNARATNE: I think it's a pretty good wicket if you take a bit of grass. I think it's a fact that we got that rather than the Cardiff wicket so we were trying to go the same team, we are trying to go the same team, but I think we thought we need another batsman, so we might make one change, but not many, you know.
We will be trying to play the same batting line-up for this game.
Q. Are you happy with the batting order that you played in the match against Afghanistan because Kusal opened. There was a collapse but are you happy with the batting order that you have settled on now?
DIMUTH KARUNARATNE: Yes, I am. I just want to do the change in the batting line-up because I want to make sure, give a good start. I know Kusal, what he can do because I played a lot with him a lot of times, so that is why I want to give him a chance to go for it and give him licence with the free hands and then if someone get out, Thirimanne can go there and play some anchor role. So those are the plans. But I think we don't want to change many things, I think this is our best batting line-up we can produce.
Q. Lasith Malinga gave some strong comments before the last game. How was that received in the dressing room and did we see a reaction to that on the field?
DIMUTH KARUNARATNE: Everybody has a job they have to do. If you are a batsman, you have to score. If you are a bowler, you have to take wickets. When we are losing, everyone else, everyone call everyone lots of things, and we get outsiders, they come in with lots of things so those are the bad things when we are not doing well.
If you can do well, when you go there, if you can do your job that's what we want, you know. I'm not bothering about any comments on the outside, but we have a game plan so we were trying to stick to those things.
Q. Can you talk a bit about the challenges of playing a team like Pakistan, which probably beats one day the world No. 1 team and then the next day loses to West Indies pretty badly, so what are the challenges for a captain like you?
DIMUTH KARUNARATNE: If you can do that particular day well, you can be the winning side. I think Pakistan did really well against England. They put score on the board, big scores, so after that, they keep taking wickets, so those are the key areas. I think if you are playing any big team, you have to do the same thing, you have to put some runs on the board and give a chance for the bowlers to take wickets. If you are not doing that, you can't do that. I think Pakistan, or whatever the team, you have to do the basic things if you want to win it.
Q. Sri Lanka have never beaten Pakistan in a World Cup game, so are you the team to do it?
DIMUTH KARUNARATNE: Yes, we can. We did really [well] if you take the Afghanistan game, we defend 180. We were good. I saw a good team spirit there and the fielding unit and the bowling unit did a good job. Now we have to put the batting line-up, they have to put their hands up and do the job. If we can put a good total on this wicket, this is a good flat wicket, and if you take the past matches, everyone's scoring more than 300 runs.If you can put 300, our bowlers can defend it, I'm pretty sure of that.