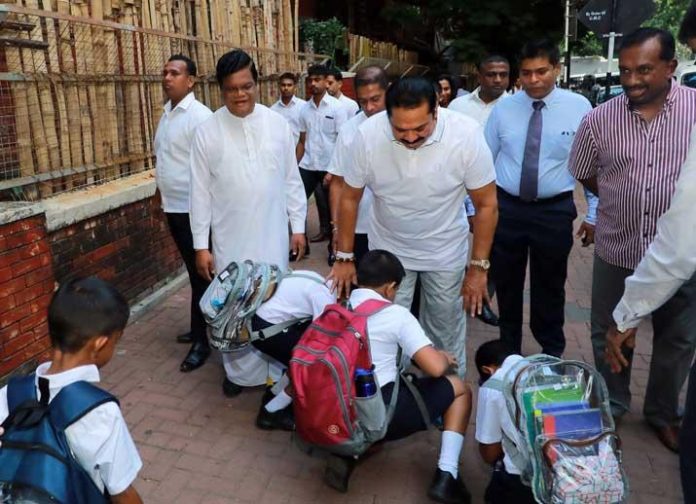 Opposition Leader Mahinda Rajapaksa today visited several schools in Colombo to inspect the security provided to them and to encourage parents to send children to schools.
Mr Rajapaksa, along with MPs Bandula Gunawardane, Mahindananda Aluthgamage and Kanaka Herath, visited the Thurston college, the Royal College, Visakha Vidyalaya, the Colombo Hindu College, Ananda, Nalanda and Gothami Colleges.
The MPs talked to the students, parents, teachers, Principals and security officers at schools.
Mr Rajapaksa has instructed all Opposition MPs to visit schools at their respective constituencies and to inspect the security conditions in order to encourage parents to send children to schools.
Speaking to journalists after visiting the schools, Mr Rajapaksa said people's fears should be diminished because children couldn't stay without going to schools forever.
"Children need to get back to schools and others to offices. If that didn't happen, it will gravely affect Sri Lanka's economy. If the children go to school, then that trust can be rebuilt.
"The Army Chief and the Police Chief have clearly said that the security has been ensured. Therefore, we should return to normalcy without any fear," he said.
He said he informed both the President and the Prime Minister that Opposition MPs would be visiting the schools on Tuesday.
"I told them that they too can support us. They gave their blessings," he said.
He said the student's attendance was satisfactory. "There is a huge difference," he said.
Meanwhile, Mr Rajapaksa said if an incident happened during his tenure, he would have strengthened the security right away so the people could get back to their day to day life immediately.
"If the people don't come out, that means we have let terrorism to control us. We can't let that happen," he said.