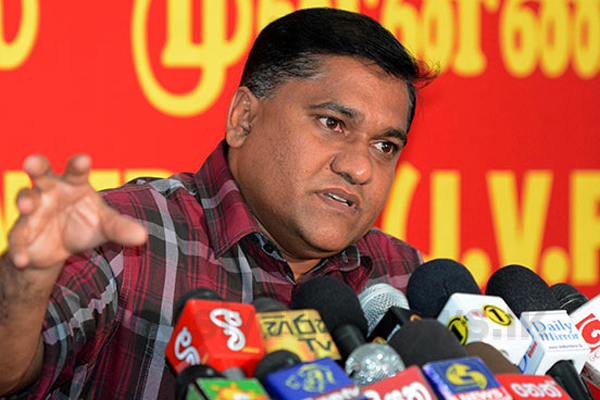 JVP MP Vijitha Herath addressing the parliament today stated that President Maithripala Sirisena has no sincere need to take action against corruption.
The President says that he took these decisions due to the need to take action against corruption; however, if he felt the need to do so, he could have done it when the bond scam was revealed, pointed out MP Herath.
The second chance he could have acted against corruption was when the special commission, appointed by him, named the Mahinda Rajapaksa, Rohith Bogollagama, Wimal Weerawansa and many others as respondents of another major financial fraud, he said. However, instead of punishing these acts of corruption, he gives them ministerial and prime ministerial posts, he added.
Herath says that, according to the President Ranil Wickremesinghe destroyed the country, cabinet as well as himself. The JVP MP questions whether the President has put the country in this plight due to a disagreement between two people.
He further says both No Confidence motions – one against then Prime Minister Wickremesinghe and the other against Mahinda Rajapaksa – were brought by the Sirisena party although they were not presented directly by him.
When the no confidence emotion against Mahinda Rajapaksa was brought, President Sirisena requested the first clause to be removed in order for him to accept it, said Herath.  This was done because it was directly against the President and President's decision, he pointed out.
According to Herath President is currently destroying Mahinda Rajapaksa as well, who attempted to rise with a separate political party, just like he did back in 2015.
Speaker Karu Jayasuriya clearly guided the parliament according to the parliamentary majority; however, the President is using the Speaker as an excuse to cover his inability show the majority.