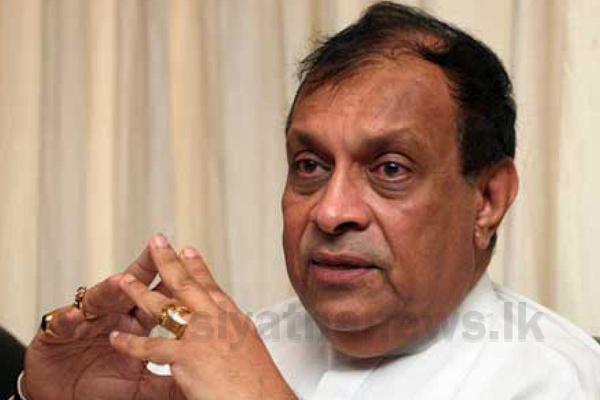 The Office of the Speaker stated that a no confidence motion and a letter signed by 122 parliamentarians against the Prime Minister and the new Cabinet appointed by the President have been presented to the Speaker at the parliamentary session today (14).
Issuing a press release, the Speaker's Office said that, the parliament reconvened this morning under the Gazette Extraordinary No. 2095/50 dated 04th November 2018 issued by the President.
Following the presentation of statements by the Speaker, TNA MP M. A. Sumanthiran had proposed to proceed by suspending the standing orders and a vote was taken to obtain the approval of the council. Accordingly, with the majority vote, the standing orders were suspended, stated the Speaker's Office.
MP Anura Kumara Dissanayake and MP Vijitha Herath had then presented the parliament with a no confidence motion against the government, mentions the Speaker's Office.
The presented motion read that,
"The Gazette Extraordinary Nos. 2094/43, 2094/43A and 2094/44 dated 26th October 2018 promulgated by His Excellency the President, and the purported acts and appointments referred to therein, are unconstitutional, and are null and void and of no force or effect in law.
For the aforesaid reasons, this House has no confidence in the Prime Minister Mr. Mahinda Rajapaksa or the Cabinet of Ministers and government appointed on or after 26th October 2018."
According to the Speaker's Office, MPs Dissanayake and Herath had suggested to take the opinion of the chamber on the motion, today itself.
The division bell was rung as per request of the Opposition for a division, and the Speaker had ordered to take a vote on the motion.
The majority voted in favor of the no confidence motion and accordingly, the Speaker informed the parliament that the no confidence motion against the new PM and the Cabinet was approved, read the statement by Speaker's Office.
Subsequently, MP Lakshman Kiriella proposed to postpone the parliament until 10 am the next day (15) and it received the approval of the Chamber, reported Speaker's Office.
A copy of the no confidence motion and the stand of the Chamber on the motion, along with a copy of the letter, signed by 112 MPs, stating that President's appointment of the New Prime Minister and the Cabinet is unconstitutional, will be sent to President Maithripala to be acted upon, constitutionally, further read the press release.