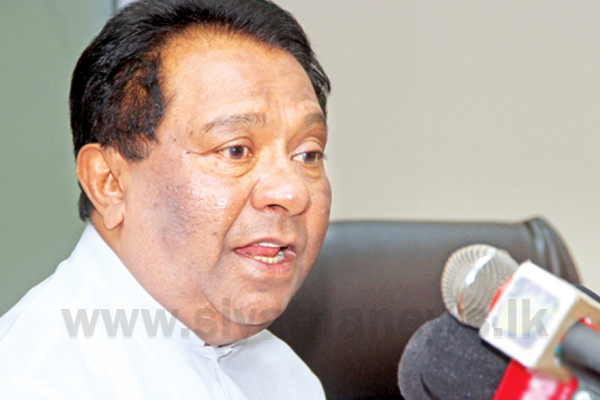 Minister S.B. Dissanayake says that the actions of the Speaker are to blame for the current political crisis country and the problematic situation in the Parliament.
He made these comments while speaking at a press beefing held at the parliament complex today following the adjournment of the session due to an uproar.
Dissanayake stated that when the Parliament convened this morning, the first task of the Speaker is to read the letter sent by the President
He said that the President had sent a letter in response to the Speaker's letter to the former yesterday, regarding the passing of a motion of no confidence brought against the Prime Minister and the government.
The UPFA MP said that the President sent a letter rejecting the content of the letter sent to him by the Speaker and pointed out the wrong actions taken by speaker of Parliament yesterday.
"He should have first and foremost read the letter without jumping anywhere," Dissanayake said while asserting that the Speaker must read out the letter sent to him by the President. "But he did not do so."
He said that instead the Speaker declared that he will not accept any Prime Minister or Cabinet of Ministers in the parliament since a No Confidence motion had been passed yesterday (14) and then allowed Mahinda Rajapaksa to deliver his statement.
"This is the Speaker's behavior."
He further said that the Speaker has no right to reject the President's statements without reading them.
He charged that the Speaker "who is suffering from a mental anxiety or disorder" then attempted to take a vote on the speech made by Rajapaksa.
That is why the Parliament was in a state of chaos once again, the MP said.
Without a doubt, the Speaker's distortion is responsible for this situation, he said.