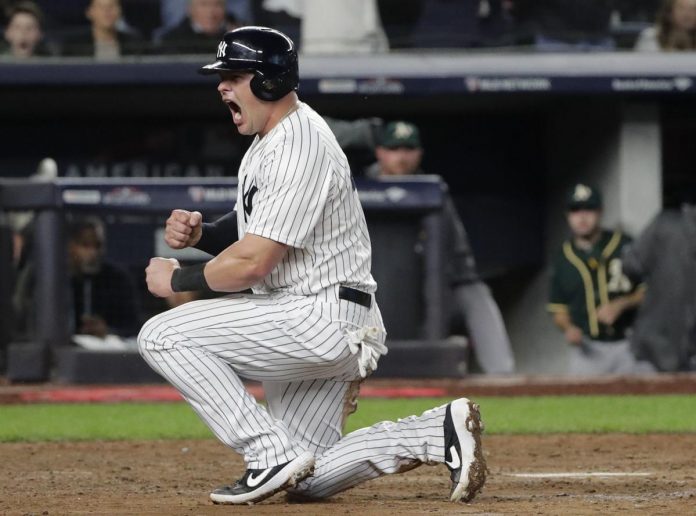 Aaron Judge and Giancarlo Stanton blasted a pair of 400-foot home runs as the New York Yankees routed the Oakland A's 7-2 to book a date with their rivals the Boston Red Sox.
Judge got the scoring started on Wednesday with a two-run homer in the first inning and Stanton, who was making his playoff debut, put the finishing touches on the wild-card game blowout with a towering blast in the eighth.
"We love playing at home. We felt the energy. It's on to Boston," said Judge.
Pitcher Luis Severino started his second straight wild-card game for the Yankees, who also beat the Minnesota Twins 8-4 last year.
Severino struggled in last year's wild-card contest but it was a different story this time around as the Yankees looked in control from the first inning.
New York now travels to Boston for a best-of-five Division Series starting Friday at Fenway Park against the first-place Red Sox.
"I think they're ready and relish the opportunity to go up against the game's best this year," said Yankees rookie manager Aaron Boone.
Ask what it feels like to face the Red Sox again, Judge said, "It sounds great. They got a fantastic team over there. We have to regroup and get ready for a great series."
Stanton's homer in the eighth travelled a whopping 443 feet into the upper deck.
Luke Voit delivered a two-run triple in a four-run sixth inning for the Yankees, who set a Major League Baseball record for most home runs in a season this year.
Australia's Liam Hendriks took the loss for the A's as he gave up his first home run since June 24. The Perth native had seven consecutive shutout starts of one inning last month but the Yankees jumped on him quickly.
He walked leadoff batter Andrew McCutchen and then moments later Judge belted a 427 foot homer into left field.
Boston went 10-9 against the Yankees this year and set a club record with 108 wins.
"We've just got to do our homework and come out swinging," said Voit of facing Boston.