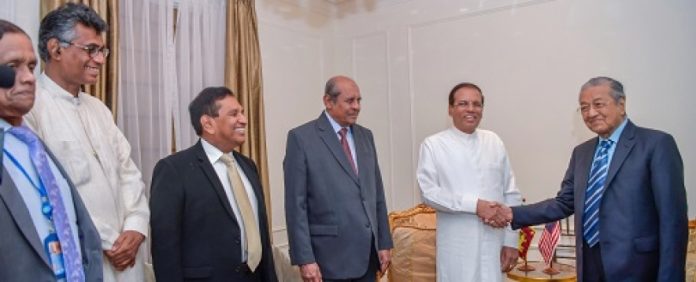 Malaysian Prime Minister Dr Mahathir Mohamed has praised Sri Lanka's steady progress and assured continued cooperation when he met Sri Lankan President Maithripala Sirisena at the Hotel Plaza in New York today (September 26th). The two leaders exchanged pleasantries and Dr Mohamad recalled earlier meetings between them, particularly about a meeting in Kuala Lumpur in 2016, the President's Media Division said.
Mr. Mahathir Mohamed, who said he was keen on Sri Lanka, said he was prepared to provide any support for Sri Lanka's economic prosperity. President Sirisena congratulated Dr Mahathir on his significant victory at the last general elections and briefed him about the progress made in the last three and a half years. He asked Malaysia to increase investments in Sri Lanka, and Dr Mahathir readily agreed.
The Malaysian Prime Minister assured the President that fullest support would be given to the megapolis programs for construction of high-rise apartments for settling urban slum dwellers.Dr Mahathir Mohamed has accepted an invitation extended to him by President Maithripala Sirisena for a visit to Sri Lanka.