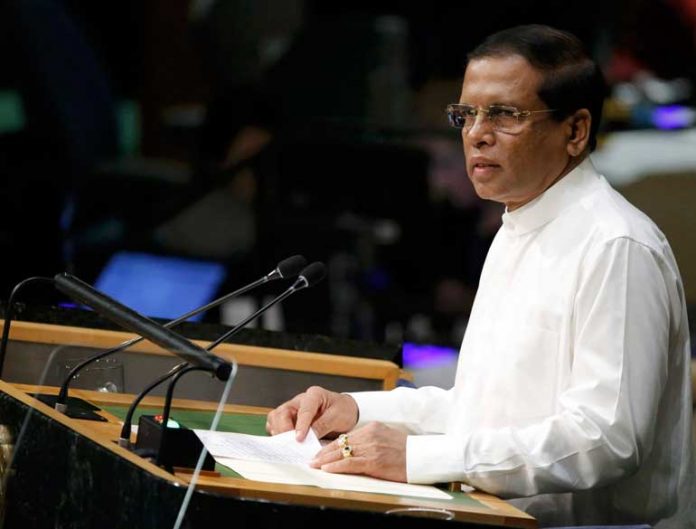 President Maithripala Sirisena will address the United Nations General Assembly (UNGA) today (25). This will be President Sirisena's fourth consecutive annual address to the world body.This year's theme of the UNGA Session is, "Making the United Nations Relevant to All People: Global Leadership and Shared responsibilities for Peaceful, Equitable and Sustainable Societies."
The President during his speech is expected to announce a set of new proposals for consideration by the United Nations Human Rights Council (UNHRC). These proposals are aimed at solving issues and providing relief without causing harm to the pride of the Security Forces and safeguard the independence, sovereignty and national security and find amicable solutions to the remaining issues with regard to the conflict.
The President is also expected to submit these proposals to the United Nations Secretary General Antònio Guterres and to the UN High Commissioner for Human Rights Michelle Bachelet.These proposals are to be submitted to the United Nations Human Rights Council session in March 2019.
The President will also take part in a special session to discuss the issues pertaining to the drug menace. On September 26, the UNGA will also hold a high-level meeting on the fight against tuberculosis, as agreed by the member states in February.
On September 27, the UN will hold a one-day comprehensive review of the progress achieved in the prevention and control of non-communicable diseases (NCDs), which will be the third high-level meeting of the UNGA on the issue and President Sirisena will be one of the Heads of States attending this even organised by the World Health Organization. During the visit an agreement is to be signed between the United Nations Development Fund (UNDP) and Sri Lanka.