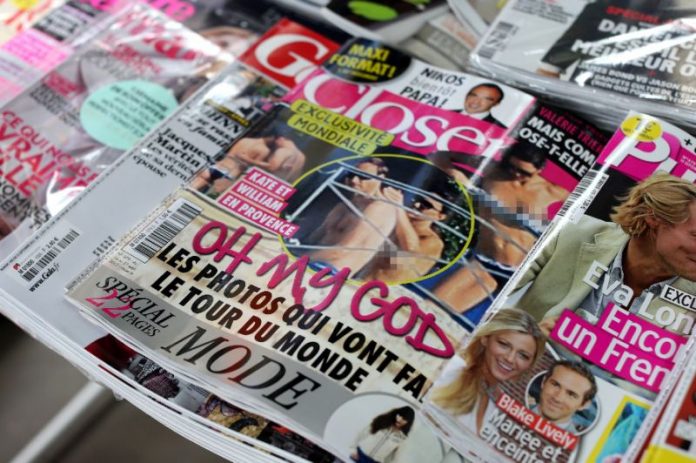 A French court is set to rule Wednesday on an appeal by two senior editors of celebrity magazine Closer against hefty fines imposed over their 2012 decision to publish pictures of the Duchess of Cambridge sunbathing topless.
The two editors, as well as two photographers suspected of taking the grainy paparazzi shots, appealed the first sentences handed down in September 2017 for breaching the privacy of Prince William's wife, Kate.
Closer published the grainy snaps of Kate wearing only bikini bottoms while she was on holiday with the prince at a chateau in the Luberon region of southeastern France in September 2012.
The magazine's editor Laurence Pieau and publisher Ernesto Mauri were fined 45,000 euros ($53,000) last year, while the photographers were ordered to pay 5,000 euro fines, with another 5,000 euros payable if they reoffended.
The French magazine, which mixes celebrity photos with gossip and news, was also ordered to pay out 100,000 euros in damages to the royal couple.
On appeal, French prosecutors have asked the court in Versailles, near Paris, to re-impose the same sanctions on the magazine and its editors while increasing the fines for the photographers, who continue to deny responsibility.
"There was an absolutely unacceptable breach, not only of the privacy and the private lives of these two individuals, but also of the dignity of a woman," French prosecutor Marc Brisset-Foucault told the court.
A lawyer acting for Closer, Paul-Albert Iweins, has asked the court to either cancel or reduce the fines imposed by a lower court in the Parisian suburb of Nanterre, arguing that they were excessive for a privacy case.
During the first trial, Closer argued that the pictures were in the public interest and conveyed a "positive image" of the royals.
But in a letter read out in court in May last year, William said the case had brought back painful memories of the paparazzi hounding his mother, princess Diana. She was killed in a Paris car crash in 1997 while being pursued by photographers.
Britain's tabloid media, usually voracious in its appetite for pictures of the royal family, declined to publish the photographs when they began circulating in 2017.