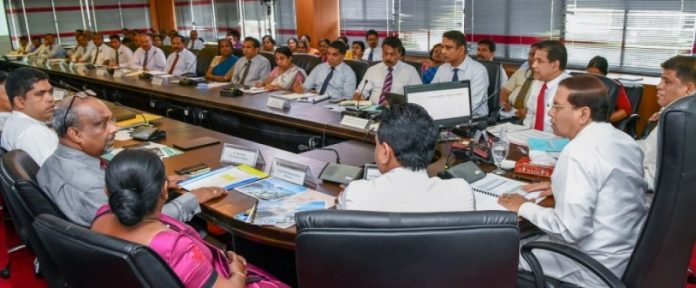 President Maithripala Sirisena says all must unite to fulfill the national responsibility on the National Tree Planting Week by planting at least a one tree in every house.The President pointed out that the main factor which determine the survival of our future is the forest cover of our country and all the citizens, including the politicians, public servants and the school children should join hands with the National Tree Planting programme to preserve a secure environment for our future generation.
He made these remarks participating in the progress review meeting of the Ministry of Mahaweli Development and Environment held at the Ministry auditorium, on Monday (17th).The Ministry of Environment will take steps under the guidance of the President to implement a broad programme to plant 3 million plants across the country and during this meeting it was discussed in detail.
President Sirisena explained that the planting of trees should not limit to a day or a week, as a human beings who loves the nature, the planting of trees must promote among the people as a habit.During this meeting, the attention was drawn to launch various programmes including training of the people to plant a tree in all the special moments of their lives and to plant a tree at the Valentine's Day by the respective couple.
The irrigational projects and other projects conducted as well as the future plans under the Ministry of Mahaweli Development were considered specially and their progress was also monitored at this meeting. The President instructed the officers to expedite the project implementation work of Uma Oya and to provide its benefits to the public by the beginning of next year.