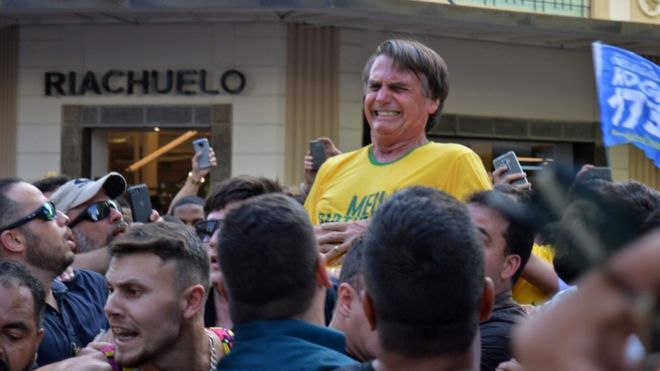 Jair Bolsonaro, Brazil's presidential front-runner, stabbed at rally.The controversial politician, who has outraged many in Brazil with racist and homophobic comments, has performed strongly in recent polls.
Footage of the incident in the city of Juiz de Fora shows Mr Bolsonaro making a thumbs-up gesture and being held aloft by supporters when he is stabbed with what appears to be a knife.Police said a suspect has been arrested and named him as Adelio Obispo de Oliveira, 40. Officials quoted by Reuters news agency said he appeared to be mentally disturbed.
He was recuperating well in intensive care after two hours of surgery, they added, but would spend at least a week to 10 days in hospital.He underwent surgery for injuries to his intestines and is expected to recover, hospital officials said.