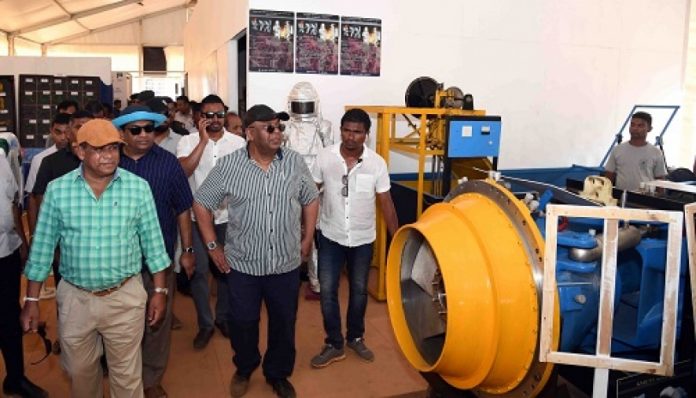 The Enterprise Sri Lanka national exhibition, organized by the Ministry of Finance and Mass Media to publicize the government's ambitious program to create a paradise of entrepreneurs, will be opened in Monaragala today. The opening ceremony of the three-day exhibition will be held at 4.00 pm today under the patronage of Prime Minister Ranil Wickramasinghe.
The exhibition will have 12 zones and 515 trade stalls of private and public sectors to raise the awareness among public on the implementation of the recently launched interest subsidized loan scheme, Enterprise Sri Lanka.
The exhibition will apprise the public of the progress of the ongoing development projects of the government and the future development programs. Several village-level infrastructure projects initiated under the Gamperaliya rapid rural development Program in parallel to the exposition will be launched under the patronage of Prime Minister Ranil Wickremesinghe.
There Green Parks will be established in the three electorates of the district under the Gamperaliya program. The groundbreaking ceremony for the Green Parks in Moneragala, Wellawaya and Bibila electorates will take place today. Each Green Park will consist of a meditation center, gymnasium, jogging path and a library, according to the Moneragala District Government Agent.
In addition, several rural and provincial roads will also be developed and all schools in the district without access to proper sanitation facilities will be provided such facilities. School grounds as well as public playgrounds have also been earmarked to be developed under the Gamperaliya program to promote sports among schoolchildren.
Special bus services will be operated for the exhibition while a special program will be implemented for the security of the exhibition premises.The Sri Lanka Transport Board has arranged special bus service to Moneragala for the public to visit the exhibition and about 200 buses will be deployed for this purpose.The exhibition will be held from 10.00 am to 12 midnight. The exhibition will conclude on Friday, 31st August. The government expects to hold 'Enterprise Sri Lanka' exhibitions in all districts in the future.