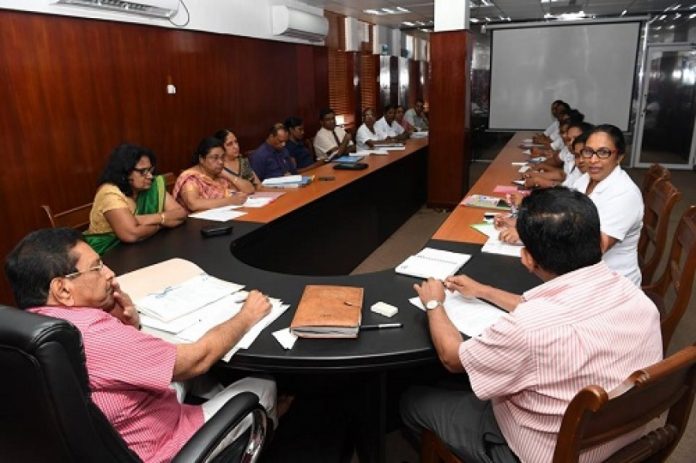 Ministry of Health has decided to expeditiously recruit 1,300 Family Health Service Officers (Midwives) to end the dearth of family health officers.The Minister of Health, Nutrition and Indigenous Medicine Dr. Rajitha Senaratne has taken this decision during a special discussion held recently with the Family Health Service Officers' Association at the Ministry to discuss the problems faced by the Family Health Services Officers.
At present, 473 Family Health Service Officers are being trained in nursing schools and they will be given appointment letters after completion of their training.The Minister also instructed to redirect 20 Family Health Service Officers, who have been in a problematic situation while serving in the Eastern Province, to other locations.The Family Health Officers participated in the discussion expressed their delight for the introduction of new uniforms.
However, the Provincial Director of Health Services of the Northern Province has informed the Family Health Officers serving in the Northern Province not to use the new uniform.The Minister, however, stressed that the as the circulars issued by the Ministry of Health are valid for the entire island, the Family Health Officers in the Northern Province also have to abide by the circular and use the new official uniforms.
The discussion also focused on opening a training school for the Family Health Officers in Yatadolawatta area in Kalutara.The Health Minister pointed out that there is a building complex in Yatadolawatta that is not being used currently and it can be repaired and used for the training school.
The Family Health Officers also made a request to the Minister to increase their travel allowance. The Minister instructed the relevant officials to discuss the request with the Wages and Salaries Commission.Director General of Health Services, Dr. Anil Jasinghe, Additional Secretary Lakshmi Somatunga and the Chairperson of the Family Health Service Officers' Association Devika Kodituwakku, also participated in the discussion.