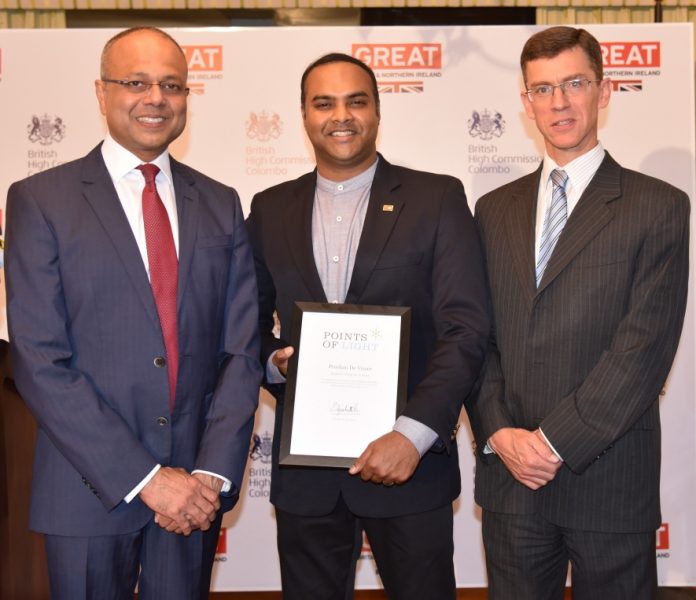 Her Majesty Queen Elizabeth II has today recognised Prashan De Visser, as the 2nd Commonwealth Point of Light from Sri Lanka, in honour of his exceptional voluntary service engaging young people and promoting peace across Sri Lanka. He is the 65th global Commonwealth Point of Light.
Prashan De Visser, is the president and founder of 'Sri Lanka Unites', a youth movement bringing young people together in the aftermath of the war. Prashan launched the movement in 2009 and, since then, Sri Lanka unites has grown to a 20,000 community of 12-30 year olds from different ethnic and religious backgrounds, active in 25 districts. They have created five reconciliation centres for young people to come together to discuss collaboration and promote peace. Under Prashan's leadership the charity employs 15 full-time members of staff including a team which visits local schools to share the charity's vital work.
As part of the legacy of the Commonwealth Heads of Government Meeting in London 2018, Her Majesty The Queen – as Head of the Commonwealth – is thanking inspirational volunteers across the 53 Commonwealth nations for the difference they are making in their communities and beyond, by recognising one volunteer from each Commonwealth country each week in the two years following the summit.
By sharing these stories of service, the Commonwealth Points of Light awards celebrate inspirational acts of volunteering across the Commonwealth and help inspire others to make their own contribution to tackling some of the greatest social challenges of our time.
Each Commonwealth Point of Light will receive a personalised certificate signed by Her Majesty The Queen as Head of the Commonwealth. The award for
Prashan De Visser was presented to him on Monday 13th August by High Commissioner to Sri Lanka James Dauris.