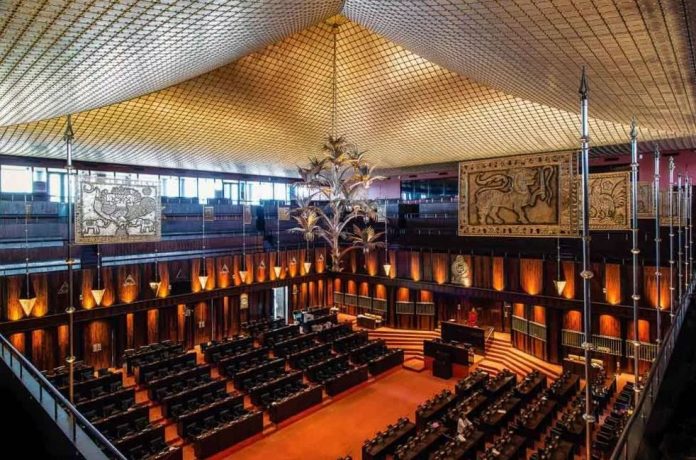 Speaker of the Parliament Karu Jayasuriya this morning (10th Aug.) informed the House that according to existing Parliamentary norms and the Constitution, he has no provisions to affect any change in the Opposition Leader's post.
The Speaker said that he was declaring his final decision on the situation which has risen with regard to the Leader of the Opposition in Parliament after much deliberation and extensively studying the matter.
He stated that the long-standing tradition has been to appoint the leader of the party which is not connected to the government and has the highest number of members represented in the Parliament, as the Leader of the Opposition.
The Speaker stated that therefore he informed the House on September 03, 2015 that he accepts MP Rajavarothiam Sampanthan, who is the Leader of the Illankai Tamil Arasu Kachchi (ITAK) which has the most number of members sitting in the opposition and not part of the government, as the Leader of the Opposition of the 8th Parliament.
"As such, I hereby declare that, as my final decision, I cannot affect any changes to the Opposition Leader position as the speaker of this assembly in terms of a constitutionally or traditionally," he said.
A letter signed by 8 UPFA MPs had been submitted to the Speaker on July 30 requesting to appoint UPFA MP Dinesh Gunawardene as the Leader of the Opposition, as the party is represented by 70 MPs in the Parliament.
However, the Speaker had informed the General Secretary of UPFA Minister Mahinda Amaraweera to submit the official stance of the party regarding the request, as is the norm on the occasion of such requests.
The UPFA handed over a letter to the Speaker on its decision regarding the change in the post of Opposition Leader on Monday (6) while it was submitted at the Party Leaders' Meeting the following day.