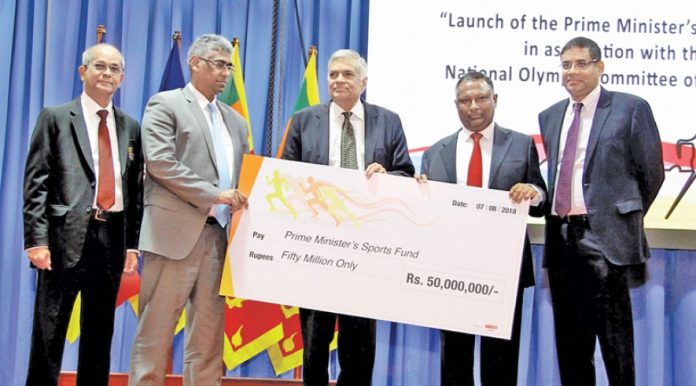 A special Sports Fund was launched by Prime Minister Ranil Wickremesinghe with an initial allocation of Rs. 50 million in association with the National Olympic Committee of Sri Lanka at Temple Trees yesterday. It will target high-performance athletes who have a realistic chance of winning medals at international sporting events for the country.
Speaking on the occasion the Prime Minister said that the Government and private sector should give a helping hand to develop sports in Sri Lanka. "We must recognise outstanding sports stars and give our maximum support to develop their skills. Talented sportsmen and women in schools should be given all the encouragement, so that they will go on to represent the country in the future and bring honour and fame to the country by winning medals at international sporting events," the Premier said.
The Prime Minister also paid a glowing tribute to the President of the National Olympic Committee of Sri Lanka Suresh Subramaniam who took the initiative to launch this fund with the support of the Government for the benefit of the country.He also presented Colours Awards to Sri Lanka's Asian Games competitors and urged them to give of their best at the 18th Asian Games in Jakarta, Indonesia this month and bring medals for the country.
The athletes who received colours from the Prime Minister were, Thilini Pramodhika (Badminton), Anusha Kodithuwakku (Boxing), Anjalika Kurera (Tennis), Fathoum Issadeen (Squash),Dinusha Gomes (Weightlifting), Janaka Wimalasiri (Athletic), Sajeev de Silva (Archery), Chamara Ruwan (Judo), Ruvin Buddhika (Rowing), Sampath Liyanage (Taekwondo) and the Manager of Asian Games squad Major General Dampath Fernando.